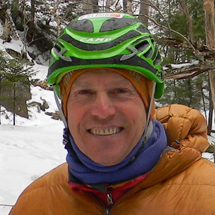 Carlos Buhler
World Class Mountain Climber
X
Program Descriptions
Product and Process-The Path to Excellence
In this presentation, striking color photography from the first ascent of Mount Everest's East Face in Tibet offers a unique way of illustrating the balance between personal goals and team process. Goal pursuit and the personal challenge of finding and following one's individual path to excellence are discussed within the context of mountaineering where success and survival are based on teamwork.

Greater Results with Fewer Resources: The Commitment to Efficiency
In this presentation Buhler will explain, through his own personal experience, the development of mountaineering strategies in the Himalayan mountains. By allowing an understanding of the evolution of climbing methods, the present day shift of tactics from the massive and complicated to the streamlined and cost-effective will become clear. Drawing from these analogies in mountaineering, organizations will find this trend towards downsizing and "fleetness of foot" to give way to some highly thought provoking possibilities.
Carlos's world changed when Carlos was ten and his father died. From birth, Carlos and his brothers spent summers with his maternal grandparents on their cattle ranch in New Mexico, where the closest town, "Wagon Mound," population of 300, was twenty miles away. (Carlos's Spanish first name reflects his mother's heritage.) During Carlos's formative, coming-of-age years, the ranch was a haven. There the young boy found an emotional outlet in outdoor adventure, a sense of belonging, and a surrogate father in the Mexican foreman, Rafael Armijo, who taught Carlos skills he didn't pick up in New York's Westchester County – to rope and brand cattle, shoot a rifle, trap wild animals, and repair a pick-up.

When Carlos was fifteen, he took a National Outdoor Leadership School wilderness leadership course in Wyoming and found his passion. Throughout his time at Vermont's Putney School and Western Washington University's Huxley College, Carlos immersed himself in outdoor adventures while still debating whether to follow his brothers into business and law. In his twenties, Carlos confronted a career fork in the road: Enroll in graduate school at Georgetown University? Or join an expedition attempting the last, unclimbed face of Everest? Given the timing, he couldn't do both. When Carlos chose Everest, he launched one of the most extraordinary careers in American mountaineering:


Only American to summit the world's three highest mountains by other than "normal" routes and ranked among the world's top four mountaineers (in everestnews.com's 2002 global ranking)
Holds the highest honors in American mountaineering, including the top award, the American Alpine Club's Underhill Award.
Known for remarkable boldness. Made the first American ascent of the world's third highest mountain, Kangchenjunga (via its North Wall) in a remarkable lightweight style, while vying against larger, higher profile, better funded, teams that attempted the peak utilizing classic expedition siege tactics.
Known for extraordinary judgment. Just 100 yards below the summit of the world's fifth highest mountain, Makalu, Carlos and his partner, Dwayne Congdon, analyzed the risks and retreated instead of going to the top (turned into a case study for the Harvard's Kennedy School of Government: Leadership with Ethics; Principle- centered, Value Driven Decision-making).
Known for ethics and heroism, including risking his life and giving up summits many times to save others. In 1994, Carlos turned back sixty feet below K2's summit when he concluded the risks were too great and risked his life on the descent to save Rob Hall, who had continued to the top. (As Into Thin Air chronicled, Hall died on Everest under similar circumstances in 1996 while Carlos returned to K2 and summited.
Survived numerous epics and several near death experiences of unimaginable magnitude. Spent 3 nights and 4 days with no water or food summiting and descending from very high on the North Face of Peru's Huascaran Norte.
Made ground breaking Himalayan ascents: While making the first ascent of among the hardest Himalayan "big walls" ever (the North Face of Changabang), Carlos and his Russian team spent sixteen days with minimum food and water living on "portaledges" hanging off sheer vertical ice and rock (and no chance of rescue)
Spearheaded remarkable explorations, including exploring unnamed and remote valleys and rivers in the Himalaya and Andes mountain chains. Carlos has "commuted to work" by camel, yak, donkey, and dugout tree trunk, and successfully negotiated with distraught ethnic minorities in isolated regions of Pakistan, Peru, Nepal, Tibet, Xinjiang, and the Central Asian Republics that were once a part of the former Soviet Union.
Profiled by Climbing Magazine in year 2000 among the "Best of the U.S." climbers in America and the most prolific Himalayan Alpinist in the country.
When not climbing, works as a management consultant for the San Francisco-based consulting firm, HRMG, Inc. Carlos's specialty is "McKinsey"-type analytics (as distinct from motivational speaking, which he has also done for many corporate clients and for 10 years with the challenging "Continuation Schools" of the Los Angeles School District). Carlos meets with business managers, discusses key business issues, identifies patterns common to mountaineering situations, and develops custom presentations illustrated with his personal solutions.
Past clients include blue chip companies such as AT&T, Lucent, Morgan Stanley, HP, First Boston, Frito-Lay, the Department of Homeland Security's research vendor, Analytic Services, and the Russian Atomic Energy Agency in Moscow, Russia.
Carlos's partnership with Lucent Technologies lasted seven years (until Lucent fell from grace in 2002). Carlos began as a consultant for Nortel and then moved with his client to AT&T and later Lucent (an AT&T spin-off). Carlos consulted for many U.S. and global Lucent business units, with his presentations attended by CEO, Henry Schacht, Patricia Russo (later CEO of Alcatel-Lucent) and Carly Fiorina (later Hewlett-Packard CEO and now a senior Republican party advisor).
Bilingual in Spanish and conversant in Russian, Carlos is a mainstream sports celebrity in Spain and Russia and has given radio and TV interviews, as well as lectures, in those countries.