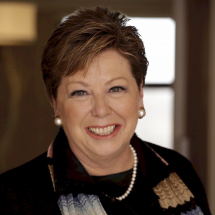 Carol Frohlinger
Expert on Negotiation & Author
X
Program Descriptions
HER PLACE AT THE TABLE: NEGOTIATING FOR CAREER SUCCESS
Research shows that women are excellent at negotiating on the behalf of others, yet fall short when it comes to negotiating for themselves. And even in today's world, women are still less likely than men to ask for that big project, raise or promotion. Yet no matter how you define career success, you must be able to ask for what you want in order to get what you want.

Carol shows women how to stop "hoping" and start "negotiating" for their career goals! In this dynamic and interactive program, Carol teaches audiences the strategies and tools needed to proactively advocate for themselves, as well as the negotiation pitfalls to avoid such as "The Tiara Syndrome," mentioned by Sheryl Sandberg in her best-selling book, Lean In. "Hope" is not a strategy, but "negotiation" is!

FROM "NICE GIRL" TO "WINNING WOMAN": NEGOTIATING THE LIFE YOU WANT
Raised to be "nice" (smile, don't brag, don't talk about money), many women allow themselves to be held hostage to everyone else's needs, ignoring their own. Avoid "nice girl" traps by applying negotiation principles to win (nicely!) the respect you deserve, the success you've earned and the life you want.

Carol helps turn "nice girls" into "winning women." In this eye-opening program, she shows you how to get the life you want by applying negotiation principles to relationships with anyone, anywhere, any time.

You'll learn to negotiate the life you want by avoiding the traps that befall even the most independent of women.

BUILDING BUSINESS RELATIONSHIPS: NEGOTIATING SUCCESSFULLY WITH PROSPECTS AND CLIENTS
The ability to negotiate effectively with both prospective and current clients is a critical competency for women in business. Yet, many women struggle with finding the right balance ─ strengthening the client relationship without sacrificing the company's bottom line. Those who can craft "win-win" solutions are uniquely poised to contribute to the organization (and to enjoy the fruits of their success!). Learn how to negotiate more successfully with the prospects and clients in your life.

HOW TO ATTRACT, RETAIN AND PROMOTE WOMEN
Organizations know that attracting, retaining and promoting top talent is critical for success in a competitive business climate - and since women are 50% of the workforce, the failure to do so limits their opportunities in the marketplace. Yet, despite millions of dollars spent in pursuit of this goal, the results haven't been realized. Why not? In this program, grounded in 40 years of social science research, Carol offers practical advice to leaders who want to "move the needle" and create a workplace that works for both men and women.

INSPIRATION FOR NEGOTIATION SUCCESS AS A LEADER
Great leaders are great negotiators! The secrets to negotiating successfully - believing that you can be successful, being proactive and being well prepared are the three keys to getting great outcomes.

In this inspirational program, Carol shares stories of women who took charge of their careers -- and their lives - using negotiation as the way to shape their futures. Learn the secrets of successful women, and be inspired to make an impact and make a difference.

THE HIGH COST OF BAD NEGOTIATION ADVICE
This program is perfect for anyone:
interested in getting better negotiation outcomes
who has to influence without authority
who wants to get to "yes" with less stress

The audience will leave with:
practical advice that can be applied right away
ideas they can use both personally and professionally
lessons they can share with colleagues to improve team effectiveness and efficiency

Let's start with Joe's story. He had an exciting opportunity to work with a new client. It was such a big opportunity that Joe called Dave, known as an expert negotiator, for advice. Feeling well-prepared, Joe went to the meeting but found out later that he's lost the business. As the pit in his stomach grew, he wondered how he would ever be able to tell his boss the bad news. And, even worse, how would he tell his wife?

Have you ever been in Joe's situation? Whether you're negotiating with clients or colleagues, your friends or your family, mishandling the "shadow negotiation" will cause you to fail every time. And when the outcome is important, failure is not an option.

The high cost of bad negotiation advice ruins professional and personal relationships every day of the week. Don't let this happen to you! Learn what this bad advice is and what to do instead in this highly interactive keynote. You'll never think about negotiating the same way again.

THE POWER OF PINK: USING FEMININE NEGOTIATION SKILLS TO ACHIEVE BETTER OUTCOMES
This program is perfect for:
women who aspire to achieve greater career success and career satisfaction
women who'd like to get better negotiation outcomes

Description:
Don't ever doubt that you can be a powerful negotiator! Common wisdom holds that men are better at negotiation than women are - but it doesn't have to be that way. The strengths that women bring to the bargaining table are far too often either invisible or undervalued. Women, socialized to be concerned about others, frequently focus on building strong relationships, the hallmark of outstanding negotiation outcomes. When people trust one another enough to share not only what they say they want but why they want it, negotiation magic happens. In this inspirational keynote, Carol offers women the tools and techniques to change the current negotiation "game" that limits creative outcomes by reinforcing the outdated idea that splitting the difference is the best we can do. It's not!
Why Book Carol Frohlinger?


Carol is an internationally known speaker on the ways women can negotiate with authenticity to achieve their maximum personal and professional potential. Her depth of expertise and unique perspectives have empowered thousands of women to negotiate more confidently, competitively and competently in all aspects of their lives.


Carol works with organizations who understand that promoting and retaining talented women is a "win-win-win" - good for women, good for men and good for the bottom line
Carol Frohlinger, JD, is the woman other women turn to when they need help navigating sticky life situations. An internationally recognized speaker, Carol combines humor and practical advice to inspire women to negotiate more confidently and competently in all aspects of their lives.

Co-author of Her Place at the Table and Nice Girls Just Don't Get It, Carol draws on decades of research as well as her experience as a practicing attorney to demystify negotiation and enable women to get to "yes" with less stress.

Carol coined the term, "The Tiara Syndrome" - cited by Sheryl Sandberg in her NY Times bestselling blockbuster, Lean In. Women who suffer from it keep their heads down, deliver excellent work and hope that the right people notice - and place a tiara on their heads. Carol clearly delivers the message that "Hope is not a strategy - negotiation is!"

She also co-founded Negotiating Women, Inc., an advisory firm committed to helping organizations advance women into leadership positions.

Carol has appeared on The Today Show among other TV shows. Her advice has been featured by NPR, Martha Stewart Living Radio, The New York Times and more.

On a personal basis, Carol gets a good deal of practice as she negotiates with her husband and two adult children often!