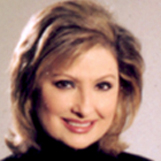 Carol Iovanna
Emmy Award Winning TV Anchor
Traveling From
Connecticut
X
Program Descriptions
Grace Under Fire
When the director counts you down ..5- 4- 3- 2- 1 YOU'RE ON , there is no substitute for being there, you have to perform. Your own credibility, as well as the reputation of the organization you work for is on the line. While this applies specifically to the news business it also applies to many businesses. Carol will give you her secrets for never missing a deadline and how to deal with the pressure. She will tell you what pitfalls to look out for , and how to keep your eyes on the prize.

The Art of Persuasion
When PAN AM flight 103 exploded over Lockerbie Scotland in Dec 1988, the world was stunned and horrified. Reporters in New York , as is often the case , were covering a national and international story. It had a tremendous impact on the New York area. Part of a reporters job is to put a face on the tragedy. Talking not badgering your way into someone's personal hell is a challenge and sometimes a moral dilemma. Carol will share that experience with you as well as other experiences ...and discuss the art of persuasion..something reporters, politicians and business people must master. The difference between failure and success is persuasion.
Carol Iovanna is an Emmy award winning broadcast professional with 29 years of on air and producing experience - (ABC, CBS, FOX, Regis and Kathy Lee News Anchor). Her AWARD WINNING career includes news REPORTING and ANCHORING for stations owned and operated by ABC and CBS in New York, then as an Anchor and Show Host at THE FOX NEWS CHANNEL with their launch in 1996 until the fall of 2006. As a reporter, she has covered the biggest news stories of the past two decades, and at the anchor desk for Fox she was the first to report the CAPTURE OF SADDAM HUSSEIN and the SEARCH FOR JOHN F. KENNEDY'S MISSING PLANE. In addition to reporting she has been successful at producing specials...including LETTERS FROM THE GULF, a series she created for TV during the first Gulf War and TRUE BELIEVERS for FOX NEWS CHANNEL.