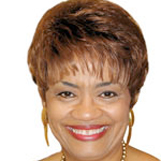 Carole Copeland Thomas
Empowering People, Changing Lives
Traveling From
Massachusetts
X
Program Descriptions
Different Worlds Same Space
This hands on 101 session begins with the similarities and differences of people, while advancing to more complex subjects including perception, prejudice, communication building blocks and the every popular "What Can One Person Do To Practice Diversity Both On And Off the Job?" Personalized diversity stories are included to help humanize the topic by engaging each attendee in understanding why they count in the diversity movement. Historical concepts are included to help each person understand why diversity is a centuries-old topic. Key concepts are clarified including commonly discussed diversity categories. Next step action planning makes this session the perfect keynote, workshop or training program for your audience.

Breakthrough: From Challenges to Opportunities
This is the program for your group when they've faced personal rejection, insurmountable problems and multiple moments of despair. When you want a powerfully inspirational message that will resonate in the hearts of your audience, this is the program for you. Carole is a living testimony of turning scars into stars. Going through divorce, losing a teenager, facing business challenges, losing parents and close friends have all been a part of Carole's multifaceted life. Your audience won't have a chance to drown in their misery, because Carole will take them on a journey of turning personal tragedies into milestones of triumph. The perfect keynote for sales teams, conventions, annual meetings, regional conferences or association events.

Team Leadership In The Digital Age
Teambuilding and Team Leadership go hand in hand in our fast past age of technology, trends and transition. Learn how you can turn a work group into a powerful top producing team by finding out what it takes to connect people to each other. This interactive leadership session will teach you new ways of developing the raw potential in others and yourself at the same time. Learn how to resolve difficult challenges and personal conflicts with diplomacy and style. The elements of clear communications and appropriate feedback are key ingredients of this must attend session.

Leadership, Sales, and The Bottom Line
Monthly quotas. Quarterly deadlines. Yearly projections. The life blood of any great sales force includes setting goals and reaching them year after year. It starts with the strength and determination of a solid leader who can rally the team even when the chips are down. This highly interactive session will help any sales leader tap into the potential of every member on the team by maximizing all available opportunities. Move from opportunity loss to opportunity gains by nurturing the skills and talents of your team of champions. The perfect keynote, workshop or training program for your audience.

21st Century Diversity
Global Diversity and Multiculturalism are here to stay, and this highly interactive session navigates through the new opportunities available to enhance your organization's productivity through diversity and multiculturalism. Learn how the Internet can become the single biggest factor to advancing your company's diversity position. Understand how transformational rethinking will shape the next 25 years of your organization's growth and development. Find out how change can revolutionize the way your staff reacts to diversity trends in the future.

Empowerment: The Manager's Action Guide
You're empowered, but what about your employees, staff members or association membership? How can you help maintain a highly energized and empowered team of people? The answer can be found in Carole's highly interactive 25-step empowerment process with proven techniques that will set your group on fire. Incorporating the whole person, Carole will present a power-packed action guide that will give you the ANSWERS you're looking for when it comes to motivating and empowering others. The perfect program for brand new managers, or experienced leaders who need a strong jump-start. Perfect as a plenary session, one or two-part workshop, or consultant initiative.
Carole Copeland Thomas is the voice of personal empowerment and diversity. She is a business coach, keynote speaker, empowerment expert, diversity professional and leadership consultant in C. Thomas & Associates, a business she started in 1987. Ms. Thomas served as an adjunct faculty member for Bentley College for a decade, and has spoken throughout the United States, London, England, Canada, and Australia.

Media Expert
She is the host of Focus On Empowerment a weekly issues-oriented radio talk show heard on WBNW-1120 AM that simulcasts on www.moneymattersradio.net. Carole is also a commentator for News and Notes with Ed Gordon, heard in 85 markets on National Public Radio.

Carole has clients across the country, including Verizon, Tyco Healthcare, Monster, Federal Highway Administration, Bentley College, and Girl Scouts, Patriots Trail Council.

Carole is the publisher of the weekly electronic newsletter, Empowerment Today distributed to nearly 4000 subscribers throughout the world. Her business case, The Emanuel Company, was included in the university textbook, Understanding Diversity, published by Harper Collins in 1995. Her essay, "An Open Letter To Dear Friends" published in the anthology, Sisters Together, details the tragic accidental death of her teenage son. Her Black History Calendar for 2000, "Four Mothers With Love" pays tribute to her son and three other young men who were killed accidentally in 1997. Additionally Carole is the creator of several teleclass learning programs and the audio learning program, "Personal Empowerment: Wake Up The Possibilities In Your Life."

Author
Her book, Personal Empowerment: How To Turbocharge Your Life On and Off Your Job, was published in 2003.

The Media Calls On Carole
Carole has been featured on ABC Radio, CBS-TV, and Fox News-TV. She has also been featured in Black Enterprise Magazine, The Boston Globe and The Boston Herald. Carole is a contributor to the USA Today Small Business Panel.

Radio Talk Show Host
For three years Carole's Personal Empowerment Tips were heard daily on Boston's WILD 1090 AM Radio. Her one-hour call in radio talk show, "Focus On Empowerment" was heard every Friday morning on the station. Carole's syndicated radio tips were broadcast in 10 US cities in early 2003, and were sponsored by Marshalls, the nationwide off-price retail store. Her radio talk show relaunched on WBNW-1120-AM-Boston in April 2005.

Education and Early Career
A native of Detroit, Michigan, Carole is an experienced entrepreneur with awards and achievements in sales, marketing, and management. After graduating with honors in 1975 from Emory University in Atlanta, Carole developed a sales management career with Mary Kay Cosmetics, winning a pink car in 1980. She returned to graduate school in 1983 (on a Martin Luther King, Jr. academic fellowship), and received her MBA degree from Northeastern University in Boston. Continuing on a career path in bank marketing and later The Gillette Company, Carole transitioned into the human service industry and served as the branch sales manager of Exclusive Temporaries. She started her own firm in 1987.

Community and Civic Leader
Community leadership is Carole's passion. Carole is the chair of the Multicultural Committee of the Greater Boston Convention & Visitors Bureau, and the Bureau's only African American board member. She is Past President of the National Speakers Association-New England Chapter and the past Vice Chair-Programs for the National Black MBA Association. Carole is the Social Action Chair and Past Vice President of the Boston Alumnae Chapter Delta Sigma Theta Sorority, is on the Board of Overseers for Beth Israel Deaconess Medical Center, and is a Commonwealth Advisory board member for Sovereign Bank. Carole is also a member of the National Association of Black Journalists.

Church and Family
Carole is a trustee and proud member of Bethel AME Church-Boston. She is the mother of three children: Lorna a University of Hartford doctoral student, Michelle, a Chicago State University undergraduate student, and the late Mickarl D. Thomas, Jr.

Carole's Personal Motto
Empowerment Begins When You Believe In Yourself.
Books

Personal Empowerment