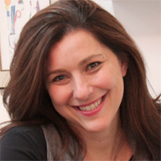 Carrie Kerpen
Speaker. Entrepreneur. Purveyor of Passion.
X
Program Descriptions
Welcome To The Highlight Reel
Be A Digital Trailblazer When Building Your Brand Own It
Shut Up & Listen: How Listening Will Earn Your Brand More Money Than Talking Ever Will
The (Im)Possible Role of The Social Media Manager
Want To Be A Better Leader? Put Yourself First
The (Non)trepreneur: How Women Can Build Their Tolerance For Risk
Carrie Kerpen has turned the tables on the typical entrepreneur career story and provides a real, vulnerable and entertaining look at what it takes to succeed.

Carrie is a self-described (Non)trepreneur, author, keynote speaker, and social media expert who brings reckless passion to every part of her life. As CEO and co-founder of social media company Likeable Media, Carrie grew her company from a husband-and-wife consulting firm into an award-winning, global organization that works with Fortune 500 clients. Her path to entrepreneurship was atypical, launching her company when she married her husband and co-founder at a baseball stadium in the world's largest sponsored wedding. The wedding was a word of mouth sensation that was featured in major media outlets including the New York Times, ABC World News Tonight, and the CBS Early Show.

Carrie's approach to transparent leadership has paid off for Likeable Media. She's led the team to generate over 20 million in revenue, while being recognized as building NYC's 16th Best Place To Work (Crains). A two time Inc. 500 winner, Carrie's company was also named one of the Top 50 Fastest-Growing Women-Owned Businesses in 2013.

A regular columnist for Inc. and Forbes, Carrie provides a behind the scenes look at what it means to succeed-- both as a female entrepreneur and for brands using social media. Through candid storytelling, Carrie removes the pretense of the "highlight reel", and provides audiences with an entertaining and realistic look at how they can get the best results.