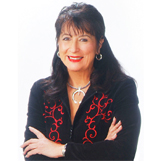 Cheewa James
Upbeat, Thought-Provoking Speaker, Author, TV Personality
Traveling From
California
X
Program Descriptions
Climb Off Dead Horses: Mastering Change
In a world filled with constant change and a need for good decision-making and goal-setting, Cheewa James presents a message on finding emotional balance and developing skills that allow for better management of self and relationships. Unique in style, pulling on the age-old philosophy of the Native American, her own heritage, Cheewa's presentation introduces a workable, daily program for moving both personal and professional lives in healthy directions.

If It Is To Be, It Begins With Me: The Power of Role Modeling
People do what you do, not what you say. This dramatic keynote presentation emphasizes that role modeling is the most powerful form of communication and developing relationships. The quest today is to inspire professional and personal values. Cheewa James uses humor and motivational stories that touch both the heart and mind with force. Cheewa is a master at combining entertainment and information.

Dead Fish Don't Swim Upstream: How to Motivate Others
People want to feel what they do makes a difference. As a former trainer with Bob Nelson Motivation, Inc. (1001 Ways to Reward Employees), Cheewa knows recognition and motivation are strong elements in the success of any corporate or organization effort. But equally strong are clear goals, consistency and employee or member involvement. This presentation will help participants understand the principles that create achievers, develop effective reward and recognition tools, and stimulate creativity and innovation.

Leap to Leadership: Principles of Eagles
Leadership: a principle-guided, dynamic partnership between the leader and those who follow. If it is to be, it begins with me—that is the message of this high-impact workshop. "More than 80 percent of those identified as having genuine leadership ability are not in positions of formal authority." That statement comes from a recent study entitled "Liberating Leadership Report". Leadership ability can be nurtured and developed—that's the message from the study.


Buckle your seat belt—it's time to get to know Cheewa James!

As a client once said, "When Cheewa is on, the electricity and energy kick in. We learn, we enjoy, we grow."

Cheewa is a sought-after keynote speaker and corporate trainer, having worked with associations and corporations across the United States and Canada. She is especially known for her presentations on leadership, dealing with change and finding a balanced life style.

With a name like Cheewa, there has to be something different going on—and there is. She says it best herself: "My father is Modoc Indian and my mother is German."

Although addressing contemporary, cutting edge business and training issues, Cheewa often uses Native American thinking to illustrate a point. She creates a feel for diversity in a very subtle way. Cheewa was born on the Klamath Indian Reservation, Oregon, and is enrolled with the Modoc Tribe of Oklahoma.

A former television anchorwoman and reporter, Cheewa is the recipient of seven UPI (United Press International) awards. She has been awarded the National Golden Mike Award for excellence in television production. She is currently a Sacramento PBS on-air talent.

An accomplished author with nearly 150 articles in print, Cheewa's work has appeared in Smithsonian, National Wildlife, Chicago Tribune, Portland Oregonian and Kansas City Star. Her book, Catch the Whisper of the Wind, is released by the Chicken Soup for the Soul publishers and is composed of her short, inspiration profiles of American Indians.

Cheewa is degreed in the area of communication with graduate work in education. She is a credentialed teacher.