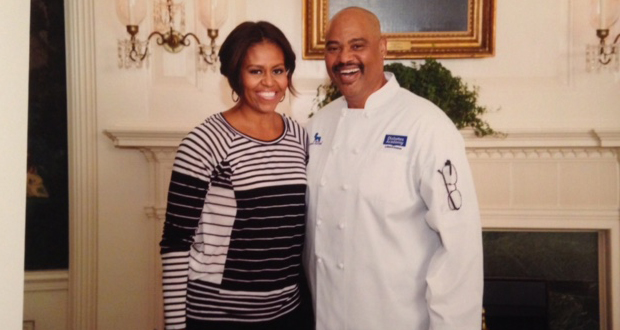 Chef Curtis Aikens
Celebrity Chef & Literacy Activist
X
Program Descriptions
Celebrity Chef Appearances
Demonstration / Educational Cooking Classes
Event Keynote Speaker
Literacy Advocate
Why Book Chef Curtis Aikens?


Curtis' own remarkable struggle with illiteracy, and his devotion to helping adults who are unable to read is a powerful and stirring testament that inspires audiences.
His larger-than-life personality always serves as a winner for public appearances, as he dispenses both food-related advice and creative, healthy recipes.
A native Georgian, Chef Curtis Aikens' attraction to produce began as a small boy, as he followed his Grandfather Curtis through the garden. His interest grew during high school, when he worked at the Conyers, Georgia A&P Market. "I was supposed to be in the grocery department," he recalls, "but I hung out in produce because that's where all the action was." His enthusiasm soon became a career.
After attending Southern University in Baton Rouge, Louisiana, Curtis vacationed in California, and was drawn to relocate, quickly finding work at an Alpha Beta grocery store in the San Francisco Bay Area. During this seven-year stint in California, Curtis opened his first produce company, called Peaches. Next, Aikens moved to New York, to head the produce departments at Dom's Wholesale Market and at Balducci's He was responsible for such clients as the United Nations Cafeteria, the Plaza Hotel and the US Open Tennis Tournament. Curtis' television career began as a consultant and food stylist on commercials for Pizza Hut, Pillsbury and McDonalds.
In 1988, Curtis returned to Georgia to begin Aiken's Family Produce, Inc., a wholesale and retail supplier of produce for clients which ranged from the Rockdale County School System to the TV series In the Heat of the Night and the feature film Glory.
Curtis' career as a television personality and author began in 1988. Currently. He resides in Novato, California and Conyers, Georgia and is the father of two young sons, Curtis, Jr. and Cole.
He has been with the Food Network since its inception, previously as the host of Pick of the day, From My Garden, Meals Without Meat, and Food IN A Flash. Curtis is Quick to point out that his expertise with produce does not mean that he is "anti-meat." "I just love fruits and vegetables," he says.
Curtis regularly entertains crowds with public appearances at food festivals and events with his dynamic cooking demonstrations and motivating speeches. He has been a keynote speaker at many events including reading and literacy events, topics of great interest to Curtis.