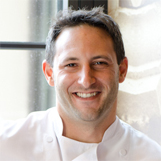 Chef David Gilbert
Kitchen Vagabond and Owner/Chef Tuk Tuk Taproom
Raised in Dallas, 35 year old Executive Chef David Gilbert credits his family with first inspiring his love for cooking – Gilbert's grandfather owned a butcher shop and taught him to cook with simple seasonings and the freshest ingredients.

Gilbert enrolled in the culinary arts program at Johnson and Wales University where he worked to master his technique. After graduating in 1997, Gilbert moved to Europe and landed a spot at the Michelin-starred Restaurant Vermeer in Amsterdam with Edwin Katz.

In 1999, Gilbert returned to the U.S. to further his techniques at The Ritz-Carlton in Buckhead, Atlanta where he worked under Atlanta mentor chefs Michael Ganley and Joel Antunes and sharpened his leadership skills. Within a year was promoted to restaurant chef at The Ritz-Carlton in St. Thomas, US Virgin Islands.

As Executive Sous at The Orient Express's, The Inn at Perry Cabin, Gilbert became known for initiating a fresh farmer's market menu, which received national recognition. In 2000, Gilbert won a bronze medal for his cooking at the Chaine des Rotisseurs junior commis competition; in 2001 he took home the silver in 2002.

Gilbert continued honing his skills in locales across the country before being named chef de cuisine at St. Louis' Eau Bistro. After a year at Eau Bistro, Gilbert left Missouri for California, where he served as Executive Chef of The Beverly Hilton's landmark restaurant. There Gilbert was the chef for the International Golden Globe Awards.

At Luqa, Gilbert entertained the diners with his interactive dishes that involved table side activation of rosemary aromas, sucking mousses from tubes, and breaking a crème brulée caramel that hovers a few inches above its generally attached custard.

"What sets David apart from so many other chefs playing with their food is that each one of his dishes stands alone as a high-flavor, high-concept, sensual experience with pleasing the diner in mind rather than showing off. He elevates lowbrow ingredients like barley, onion and bacon in a tender, concentrated risotto with pink slices of squab, and he seeks out exotic products like kangaroo, which he pairs with pillows of potato gnocchi."

Gilbert was the proud recipient of the national 2007 Rising Star Chef award from Starchefs.com.

Gilbert decided to take a year away from the stove in 2009 and seek out new ingredients and techniques from around the globe, his travels took him through South East Asia, Southern Africa, and Europe. That started the cultural following of his website www.beyondthekitchen.com In 2010 Gilbert was hand selected to be the Executive Chef to represent United States on a global platform at the World Expo in Shanghai, China. There he showcased the movement in what he calls Modern American Cuisine.

Chef Gilbert was chosen by Chef Stephan Pyles to helm the state-of-the-art kitchen at the new Hotel Eilan Resort and Spa in San Antonio, Texas. Since departure from the hotel Gilbert has been recognized by the James Beard Foundation with a Best Chef nomination and made Antoinette Bruno's Top Ten dishes of the year list.

In between traveling around the world Chef Gilbert has completed his first book Kitchen Vagabond which is now available through international retailers. Chef David Gilbert has taken his passion for Southeast Asian street food and partnered with craft beer guru Steve Newman. With their obsessions united they bring this first ever concept they call Tuk Tuk Taproom.