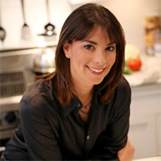 Chef Missy Chase Lapine
The Sneaky Chef
X
Program Descriptions
Food and health: the connection between what you eat, how you feel, and disease and obesity prevention. How to incorporate the world's healthiest foods into your everyday life – simple swaps, substitutions, easy, healthy cooking methods; how to "sneak" small changes into your life for big health benefits.

Food innovation: how to use vegetables, legumes, fruits, seeds as ingredients to transform the way we eat, live, and cook…making everyone's favorite foods healthier.

Food and Family: Health and the Happy Family — for mom, dad, and kids
sneaking healthy food into kids' favorite meals
how to "cheat on your man in the kitchen" – and revamp his macho manly meals
"sneaky" = small changes that add up to big benefits – healthy lifestyle changes you can live with
how to get kids in on the action, into the kitchen, and teach them how to cook/about good nutrition
Weight loss for adults and children – how to remake your favorite comfort foods with less fat, calories, and sugar; how to make better food choices using "sneaky swaps" when you shop and cook; how to feel full longer on less calories.

Foods that heal: how to incorporate anti-aging superfoods into your everyday favorite meals; how to use food as your best weapon against disease

How to be a "mompreneur" – create a home-based business for moms – Missy Chase Lapine was a magazine publisher who left the corporate world to start her own line, BabySpa©, natural baby bath products that sold into over 1,000 stores worldwide. She then went on to write a series of parenting books, The Sneaky Chef and Sneaky Fitness, which became NYT bestsellers and became a globally known brand. In response to demands from her dedicated followers, Missy has founded The Sneaky Chef Foods, LLC, helping moms easily feed their kids the fruit and veggies they need in the foods they already love.

Fitness for adults and children: how to incorporate more movement into your family's everyday life – a day in the life of a sneaky fit person is not only super fun, but can burn up to 400 extra calories and prevent obesity!
Why Book Chef Missy Chase Lapine?
Missy is not just the former editor of Eating Well Magazine, the founder of her own company, a member of Parenting Magazine's "Mom Squad", frequent guest appearance on all forms of media, and multi-time best selling author - she started a national trend for improvising healthy eating habits in the modern American household
Missy Chase Lapine is best known for her game changing Sneaky Chef series of books, including her New York Times bestseller, The Sneaky Chef: Simple Strategies for Hiding Healthy Foods in Kids' Favorite Meals (2017) Missy's fresh, proven approach has made The Sneaky Chef a household name with a passionate following—and has transformed the way America feeds its families. Her unique method of using purees to make every meal more nutritious (and still incredibly delicious!) has earned her the title of Top 20 Most Influential Moms in Food.

Missy turns her attention to adults with her new book, Sneaky Blends: Supercharge Your Health with More Than 100 Recipes Using the Power of Purees (Simon & Schuster, Sept. 2016), transforming her signature purees into powerful weight loss tools that deliver big time on nutrition and satisfaction.

In addition to her 7 books, Missy is also the founder of Sneaky Chef Foods LLC, a company committed to developing products that improve children's health by helping moms easily feed their kids the veggies they need in the foods they already love. Her foods include Sneaky Chef No-Nut Butter (a wildly successful peanut butter alternative) and pasta sauces made with 8 hidden veggies. Sneaky Chef Foods are sold at various Target Stores, Albertsons, Stop&Shop, Publix, Walmart, and natural grocers nationwide.

As a celebrity chef, Missy has appeared on The Today Show and hundreds of national TV, radio and print appearances, and is a regular contributor to the Huffington Post and Daily Meal. She is also a member of the Children's Advisory Council for NewYork-Presbyterian Morgan Stanley Children's Hospital, where Sneaky Chef meals are served to patients.

Missy's fresh, irreverent approach to nutrition comes through on her website, TheSneakyChef.com, and on Facebook, Twitter, and Pinterest.

She lives with her husband Rick and their children in Westchester County, New York.
Books