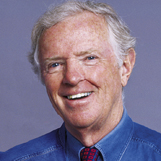 Chris Crowley
Author of the Younger Next Year Books
X
Program Descriptions
The Science-Based Revolution in Behavior and the Revolution In Health, Fitness and Aging.
"Make core changes in behavior and avoid 50% of all serious illness completely (heart disease, most cancers, diabetes and others) ... and put off 70% of aging until the very end of life."

Corporate Wellness and The Revolution in Behavior.
"Bringing the Revolution in Behavior to executives and employees should be "True North" for well run companies. It changes everything."
Chris Crowley, motivational speaker, is the NY Times bestselling co-author (with leading NY internist Henry S. Lodge M.D.) of the Younger Next Year Books which have sold over a million copies and have been translated into 20 languages worldwide.

The Younger Next Year books have been called 'The Boomers' Bible' and 'The Best thing Ever Written' about fitness and wellness for the Baby Boom generation.

Chris was born in Salem Massachusetts in 1934 and is a graduate of Exeter (1953), Harvard College (1957) and The University of Virginia Law School (1965). He spent his 25 year professional career at the New York City law firm, Davis Polk, most of it as a partner in litigation handling major securities and antitrust cases and investigations.

Career highlights include having led a team of 40 lawyers in the largest contested takeover case (DATE would be good) and bringing – and successfully arguing before The Supreme Court – a pro bono case to get more African-American and Hispanic policemen hired and promoted in the New York City Police Department.

Chris considers himself that comparative rarity: a happy lawyer but retired in 1991 because he 'wanted to live more than one life.'

Post-retirement Chris and his wife Hilary moved to Aspen Colorado where she painted and he lived out his long-delayed dream of being a ski–bum, enjoying an active and healthy outdoor life and laying the foundations for what would emerge as the hugely successful Younger Next Year series of books.

Chris and Hilary experienced a much more difficult, but no-less life-changing event in 1996 when Hilary broke her neck in a fall. She was a quadriplegic for a time and is 'one in a thousand' to walk after an accident this serious. Her recovery is the central miracle in their lives.

Today Hilary is back to full strength and mobility, passionate about skiing, biking, sailing and rowing together with Chris, and poster child for Younger Next Year and the kind of dedication and mental and physical determination that we're all capable of – but often don't pursue in terms of our own lives and health.

Chris is hard at work on the next book in the series 'Thinner Next Year' and spends a great deal of time traveling the country lecturing on the Revolution in Aging.

Chris and Hilary live in New York City and Lakeville Connecticut with their remarkable dog, Olive.