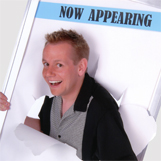 Chris Linn
America's Magical Funnyman®
X
Program Descriptions
The Amazing, Hilarious Chris Linn Show
HALF comedian…HALF off-beat magician…and a WHOLE lot of fun, Chris Linn is "America's Magical Funnyman". A delightfully playful performer, Chris blends creative magic effects and high-energy comedy, with crazy stunts and lighthearted audience interaction, to create one of the most unique and freshly entertaining performances around.

Developing a knack for making people laugh at a young age, Chris was performing paid gigs by the time he was 13 years old. After that, it did not take long for this charismatic young man's talents to gain national attention. While still in High School, Chris was awarded top honors for stage magic at Tannen's Magic Academy in New York, and was one of only ten teenage performers from around the world selected to perform at the World Magic Summit in Las Vegas.

Chris loves entertaining audiences, and as luck would have it, audience love being entertained by Chris. To date, Chris has performed in almost all 50 and in over 13 different countries. He has made numerous international television appearances, including guest appearances on FOX TV's Vicki Lawrence Show and the PBS documentary, Share the Magic. In 2004 Chris released his first comedy DVD, Cool Tricks and Funny Stuff.

Chris' ability to keep an audience laughing with a diverse repertoire of clean comedy has made him the entertainer of choice for a long list of corporate clientele that includes Ford Motor Company, DuPont, Wal-Mart, and Honeywell. It has also earned him the distinct honor of being the only comedy entertainer to receive the national Guiding Light Award for being a positive role model for America's youth - not one, but two years in a row.

In 2005, Chris broke the Guinness World Record for "fastest one handed playing card scale", by throwing 114 playing cards a distance of at least 20 feet in one minute.

When he is not performing for Corporate America, Chris is filling showrooms across the country and around the world. In addition to presenting his own headliner show on casino, cruise ship, and theater stages, Chris has been the featured comedy act for productions such as Comic Relief- Detroit, Las Vegas – Live!, and the Showboat Branson Belle. He has also written and starred in a multi-media comedy show for Cedar Point – the world's top rated amusement park. This show, which has played four separate six-week runs at the park's Palace Theater since 2002, was a finalist for one of the International Amusement Park Associations' 2004Big E awards for best production show.

Off stage, Chris likes to keep his creativity flowing with a variety of projects. Chris has written and produced several of his own short comedy films, including the award-winning parody commercial, When Balloon Animals Attack. Chris' film work and video gags are often integrated into his live shows and are set to part of his first television special.

Today, Chris finds himself in steady demand and often logs over 300 live performances a year…which is a good thing since he suffers from a pathological fear of ever getting a "real job".