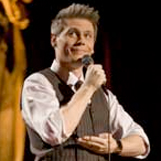 Christian Finnegan
Comedian, Actor, Writer
X
Program Descriptions
Hilarious, Clean Stand Up Comedy
Christian Finnegan is a stand up comedian. He appears frequently on the television and also writes stuff.

Christian is perhaps best known as one of the original panelists on VH1's "Best Week Ever" and as Chad, the only white roommate in the infamous "Mad Real World" sketch of "Chappelle's Show". He can currently be seen on the TBS sitcom "Are We There Yet?" and will appear Spring 2014 on VH1's "I Love the 2000's".

Over the past decade, Christian has been a fixture on Comedy Central, having starred in his own one hour stand up special "Au Contraire!", as well as "Comedy Central Presents", "Tough Crowd with Colin Quinn" and countless network interstitials. He's also appeared on "Conan", "The Late Late Show with Craig Ferguson", "Good Afternoon America" and "The Today Show".

Christian's new album, "The Fun Part" is available on Netflix, iTunes and Amazon as of April 15, 2014. His two previous albums, "Two for Flinching" and "Au Contraire!", are also available on iTunes and at Amazon.

Christian also hosts "Audio Spackle", a tune-centric podcast featuring comedians, rock critics and musicians. It can be found on iTunes or at cavecomedyradio.com/AudioSpackle.

When he's not on tour, Christian Finnegan lives in Queens, NY with his wife, author Kambri Crews, and their faithful pooch Griswold.