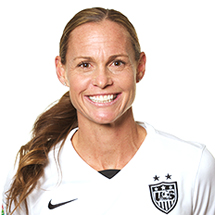 Christie Rampone
Whether in the world of soccer or business, leadership is simple.
Traveling From
New Jersey
Christie Rampone is the longest serving Captain of the U.S. Women's National Soccer Team (2008 – 2015). Rampone is the first four-time Olympian in the history of the squad. She is the only member of the squad to be part of two Women's World Cup Championship teams (1999, 2015). She is recognized as the best defender in the world of women's soccer. With more than 18 years of experience under her belt, she defined herself as the leader of the United States Women's National Team, both on and off the field.

Christie is the ninth player in the Women's National Soccer Team's history to be named the team captain, taking the reigns in 2008. The numbers don't lie. Her leadership paid dividends as she guided her team to the 2015 FIFA Women's World Cup Championship and to three Olympic Gold Medals in 2004, 2008 and 2012. She was also part of the 1999 Women's World Cup Team that captured the heart of our Nation. In addition, Christie earned 311 caps - making her 2nd all time on the Women's National Soccer team in internatoonal appearances.