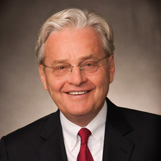 Clark Winter
Global Business Diplomat
X
Program Descriptions
Drivers, Passengers, Road kill
A Changing World: The Rule of Power vs. The Rule of Law
A Changing Investor: Fear vs. Greed
A Changing Market: Protectionism vs. Focus on the Future
Changing Opportunities: Entitlement vs. Opportunity
Clark Winter is an internationally known commentator on the world economy, global financial markets and geopolitics. For more than 35 years, Clark Winter has held his clients' interests as paramount. It's one reason why Ian Bremmer, Chairman and CEO of the Eurasia Group, calls Clark "one of Wall Street's most insightful and honest intellectual brokers."

Early in his career Clark opened offices for J.P.Morgan in Madrid and Mexico City, working on a variety of corporate banking assignments. He quickly rose to a position as Managing Director for his work. This led him to Lazard Freres, in 1991 as a Senior Vice President, where he helped launch their global private investor business. From there he moved to Global Asset Management USA (GAM), one of the world's largest fund companies, as President and CEO.

When GAM was sold to UBS in 1996, Clark founded his own firm, Winter Capital, to continue his strategy of placing client needs first. The firm became one of the earliest independent multi-manager hedge fund advisory firms, structuring bespoke multi-manager portfolios and Fund of Funds. In 2000, Winter Capital was acquired by Citi, and Clark Winter became The Chief Global Investment Strategist for Citi's Global Wealth Management division. At Citi, Clark was instrumental in moving that organization's marketing strategy toward selling investment products that are best of breed. Through "The View," Citi's monthly investment publication, and Investment Outlook conferences around the world, Clark Winter became the representative of the Citi Global Wealth Management brand for millions of people around the world. In 2007, Clark moved to Goldman Sachs as Managing Director and Director of Global Portfolio Strategy. Since then, he has written his first book, "The Either/Or Investor", published by Random House. Clark also serves on the boards of the Andrea Frank Foundation, the Committee on Photography at the Museum of Modern Art, and the Belfer Center at the Kennedy School of Government at Harvard.