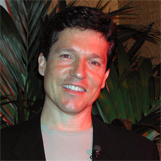 Cliff Sheats, PhD.
Health Sciences: Psychological and Nutritional/Biochemical Perspectives
X
Program Descriptions
Change Your Mind - Change Your Biochemistry - Change Your Life!
Dr. Sheats will motivate your audience with his passion for vibrant health. In short, he demonstrates how professionals can combat the physiologic and psychological stresses of managing a business so they can live longer and function at a biological age 15 years younger than their chronological age!
Dr. Cliff Sheats is a internationally known Board Certified Clinical Nutritionist. He is the author of the National Best Seller, Lean Bodies. His Lean Bodies series, including the Lean Bodies Cookbook, Lean Bodies Total Fitness and 30 Days to Swimsuit Lean have taught and inspired thousands.

Dr. Cliff hosted his live weekly radio show in Dallas, Texas for over a decade and has appeared frequently on national television including CBS Evening News, CBS This Morning, CBN, CNN, TV/Food Network, Mike and Maty, Crooke and Chase, CNN Headline News, and Body By Jake. His program has also been featured in Publisher's Weekly, Vitality, Allure, Cosmopolitan, Parenting, and Women's Health and Fitness.

If you're looking for the consummate professional with up-to-date knowledge in all the pertinent disciplines (nutritional biochemistry, physiology and psychology of change), as well as someone you can trust to guide you in the right direction, then you've found him!