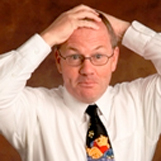 Conor Cunneen
Substance with Humor
X
Program Descriptions
Why Ireland Never Invaded America and other Lessons to BEAT the Recession
This compelling, fun-packed, thought-provoking presentation provides business lessons in a memorable, humorous and implementable manner. Conor combines his experience as a former VP Marketing with his award winning humorous material to present a keynote that will have your audience laughing AND learning. Business case studies woven through mystical Irish imagery, humorous impish anecdotes and just plain common sense ensures a memorable AND implementable learning experience. As a keynote speaker who is humorous, insightful and thought-provoking, Conor's material ranges through current business case studies and some relevant historical material also. In this keynote, people and brands featured include Lexus, Bono, Lyndon Johnson, McDonald's, Willie Nelson, Starbucks, FDR.

The ER Factor – Drivers of Corporate Health™
E (Execution) of a R (Relevant) strategy - the ER Factor is critical for business growth and health. This well-researched, lively presentation shows there is little plain sailing in the business world. Learn from the pains and successes of McDonald's, Wendy's, JetBlue, Dell, Ryanair, Toyota and many others. Maybe not the material you might expect from a humorous, keynote business speaker, but you will leave this program thinking about how you can improve your corporate health. Conor will leave you with a large smile on your face but also an uneasy feeling that maybe, just maybe, there is more you can do to ensure the health of your business.

A Failure of Imagination
This hard hitting program suggests that many of the problems corporations run into are due to A Failure of Imagination. The creation of a sustainable compelling Vision is critical for business growth. References include GM, United Airlines, Iraq, McDonald's, Starbucks, Lexus, Harley – Davidson.

SHEIFGAB™ the World: Eight Building Blocks to better Teamwork, Motivation and Productivity
Conor tells his audience that SHEIFGAB is the Irish word* for "Do It" or "Make it Happen," hence SHEIFGAB the World. This is a highly relevant, commonsense program featuring Substance and Humor. Each building block reinforced by a 'dumb' country song title and self-deprecatory anecdotes. Very strong motivational / emotional material which has lasting impact. You will hear SHEIFGAB the World consistently around your offices after this fun packed program with a great message.

The Gift of GAB
How Goals, Attitudes and Behavior (GAB) can give you that 'Top o' the Morning' feeling. A Powerful, Energetic program featuring featuring Substance, compelling anecdotes and a large dollop of Conor's Irish Humor.. Each building block reinforced by a 'dumb' country song title and self deprecatory anecdotes. Very strong motivational / emotional material.

The "Motspirational" Man
In a wonderful spoof on motivation speakers, Conor uses every worn out and over used cliché in the motivational speaker's book. As many marketing gurus (Conor included) suggest you should create your own niche, here Conor positions himself as a unique combination of motivation and inspirational speaker – The "Motspirational" Man. Despite (or maybe because of) the humor, this program also contains very strong motivational messaging.

Capturing the Guest
This speech expands on the speech which Conor delivered to win the coveted Chicago Toastmasters Humorous Speaker of the Year Award for a speech on Customer Service in San Quentin Jail. Sometimes humorous, always thought provoking, this keynote will motivate your team to 'capture the guest.'
From Harley-Davidson to Helsinki and many places in between, Irishman, Author, Raconteur, Marketing Guru, award winning Humorist and Consultant, Conor Cunneen energizes, educates and entertains his audiences with Substance and Humor.

A former VP Marketing Unilever, Conor has worked in Ireland, UK and USA on blue chip brands including Hellmann's, Heineken, Lipton and Knorr.

He combines this international business experience with the humor which won the Chicago Humorous Speaker of the Year award to present memorable, impactful keynotes and workshops. Would you believe his award winning humor speech was on Customer Service in San Quentin Jail?

Conor's unique ability to combine powerful business and life lessons with mystical Irish imagery and an impish sense of humor has seen him referenced as "James Joyce meets Tom Peters" and "An Irish Dilbert."

A two time cancer survivor, he hosts JobTalk on Chicago radio. He is author Why Ireland Never Invaded America, and has been published in USA, Ireland, UK and Australia.

Conor's offers a BRAND PROMISE to all his clients: E4 - Energize, Educate, Entertain AND Easy to work with.

Recent engagements outside the United States include Helsinki, Finland: Glasgow, Scotland: Cork, Ireland: London, England: Edinburgh, Scotland: Birmingham, England: Toronto, Canada, Madrid Spain.