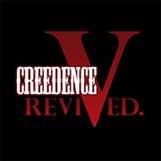 Creedence Clearwater Revived
1960s & 1970s Rock Band
The members of Creedence Revived, with the exception of Bill Bakopoulos, all originated from another CCR tribute band. There, they grew together and played for crowds upwards of 30,000 people. However, after a few years, decided to go seperate ways and create their own creedence tribute band, Creedence Revived. With the addition of the electrifying guitarist, Bill Bakopoulos, they've been able to take a tribute to CCR to new heights by giving it a new flare that makes it their own style while keeping the CCR authenticity and add the element of youth as well that traditionally gets lost in the tribute band scene.

Rich Perez
AKA "El Camelion", Rich has a knack for being able to transform his voice into the styling of most artists. Rich grew up, moving back and forth from Chicago to Miami and eventually ended up in Peotone, IL where he started up his first band, Detour who went on to win Ed Mcmahon's "Next Big Star."

Rich has performed in front of crowds as big as 30,000 people and has shared the stage with artists such as George Clinton, Steve Augeri, The Gin Blossoms, Joe Nichols and Alex Lingerwood of Santana.

Rich works as a professional singer with the Orchestra 33, a Chicago corporate band, as well as singing for a professional Jingle house.

In 2010, Rich performed for 3-time-grammy-award-winner Pink, who raved about his vocal ability, claiming that "Rich Perez is an insanely great singer."

Influences: Pink Floyd, John Fogerty, Led Zepplin, Elvis, The Beatles, Johnny Cash, and more. Proficient Styles: Rock/Atl/Progressive/Country

Bill Bakopoulos
From Palatine, IL, Bill began playing guitar at the age of 14 and graduated Elmhurst College with a Bachelor's Degree in Music Business. He has since become a high-demand musician, showcasing his music onradio stations like Q101 and 95.1 and sharing the stage with bandslike Bush, Saving Abel, Saliva, Fuel, Steve Augeri, Last Vegas, AM Taxi, Taddy Porter, and Smile Empty Soul to name only a few.

After interning as aProducer/Engineer at Planet 10 studios, Bill went on to work as asession guitarist andhas recorded for Emmy Award winning artist Blackbox, Rob Kleiner (TubRing/Mindless-Self-Indulgence), Willie "Big Eyes" Smith, and many other artists. Bill also works as a live performer playing guitar for groups like Blackbox, Erica Iozzo Band, and Creedence Revived!

In 2008, Bill was the winner of the 95.1 Will Rock Bandemonium.

Influences: Guns N' Roses, Van Halen, Pantera, Guthrie Govan, John Petrucci, Stevie Ray Vaughan, Les Paul, Paul Gilbert, Bucket Head, CCR, Karnivool, Red Hot Chili Peppers Proficient Styles: Rock/Blues/Pop/Metal/Progressive

Equipment: Powerball with XXL Engl 4×12 Cab, Gibson Les Paul

Standard, Ibanez Prestige, Boss Stomp Boxes

Graham Czach
Graham Czach is an original wildly creative and accomplished musician, composer, upright/electric bassist, vocalist and guitarist. Graham has toured the United States extensively as well as other parts of the world, such as the Caribbean. As an active writing and performing member of 2010 Chicago Music Award Winner – Chicago Afrobeat Project, Graham is always pushing the envelope and reaching new levels of versatility and musicianship. Throughout his career, Graham has had opportunities to perform with the best, including Grammy Award Winners – Paul Wertico and Howard Levy. Graham also just recorded double bass on Grammy Award Winner Lupe Fiasco's new album "L.A.S.E.R.S."

Influences: Led Zeppelin, the Beatles, the Red Hot Chili Peppers, Pink Floyd, Radiohead, CSNY, Jeff Buckley, Soundgarden, Jimi Hendrix, SOAD, Mars Volta, Claude Debussy, Miles Davis, and many more!

Tony Montana
Tony Montana started playing drums at the age of 8. He could be seen twice a week lugging around a snare drum case more than half his size with an unmistakeable look of deter-mination in his eyes. Along the way, he picked up piano and guitar. At the age of 15 he took a Music Theory class, and started composing. Tony has been in many bands across a wide range of Rock genres since the age of 14. These days, in addition to Creedence Revived, he runs a recording studio producing many local area bands, called Spiral Groove Studios (myspace.com/SGStour) and has an original two man loop show called the Dub Currents.