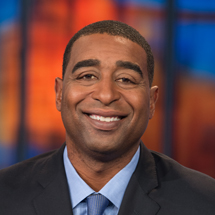 Cris Carter
ESPN Analyst and former Minnesota Vikings Star Receiver
X
Program Descriptions
Overcoming Adversity
Cris had some things to overcome during his first few years in the NFL, as he got into some substance habits and was not taking care of himself properly. He was able to overcome that, become clean, and work his way to a hall-of-fame career.

Making The Most of Opportunity
Cris speaks very well and inspiringly about making the most of the opportunity that he was given to play professional football. He speaks about not taking his God-given talent for granted and being thankful each day for it, and making the most of it.

Teamwork
Cris knows all about how important team work is. He exhibited this during his playing days in the NFL, as well as during his broadcasting career.
Why Book Cris Carter?
Cris Carter is a recognized name not only in context of NFL and ESPN, but he is now also a widely sought after public speaker
Cris is an expert on the subject of football, and he loves sharing his experiences and life lessons to any audience
One of the most illustrious pass catchers in NFL history, Cris Carter, the former Minnesota Vikings star receiver, joined ESPN in 2008 to serve as a studio analyst on NFL Countdown.

Prior to joining ESPN, Cris was a studio analyst for HBO's Inside the NFL from 2002-2007.

Cris has also hosted an NFL show on Sirius Satellite Radio during the season, and served as the NFL expert analyst for Yahoo Sports.

During Cris' playing career, he worked for various television networks serving as a game and studio analyst.

Cris is a sought after public speaker and has spoken for many Fortune 500 companies including John Hancock and Pitney Bowes. In addition, the NFL has chosen Cris to speak to the rookies before each season.

Cris is eligible for induction into the Pro Football Hall of Fame in 2009. Drafted out of Ohio State University by the Philadelphia Eagles in 1987, Cris first reception as a pro was a 22-yard touchdown catch. He went on to a stellar NFL career spanning 15 years, including 12 years with the Minnesota Vikings. Coupling stunning athletic ability with durability, Cris played a full 16-game slate for 13 seasons and appeared in eight consecutive Pro Bowls. In 1999, he became only the second player in NFL history to catch 1,000 passes, putting him into the history books alongside Jerry Rice. Cris ranks second on the NFL's all-time list for total receptions (1,101) and receiving touchdowns (130). He was named to the All-Decade Team (1990) by the Pro-Football-Hall-of-Fame Selection Committee and received the 1999 NFL Man of the Year award. In 2002, Cris returned to the field when he joined the Miami Dolphins in midseason when injuries decimated their receiving corps.