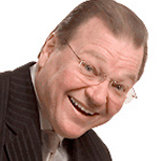 Dale Irvin
Meeting Humor, Professional Summarizer
X
Program Descriptions
Five Minute Funnies
"Five Minute Funnies" introduces Dale to meetings, conventions and seminars to wrap things up with a monologue that has been created based upon WHAT JUST HAPPENED. A classic!

The Corporate Challenge
This presentation can be used as a humorous general session team builder, or as a fun way to reinforce valuable information that you don't want your people to forget.

"Custom Put-On"
In this hilarious program, Dale is presented as a bogus expert on whatever subject the corporation chooses. The audience is baffled, confused and hysterical.
Dale Irvin, CSP, CPAE is a very funny speaker. He is also an author, actor, and widely televised comedian. But speaking is what Dale does first, foremost, and incredibly well.

In addition to 100 national TV appearances, Dale has appeared in concert with JAY LENO, PAUL ANKA, THE FOUR TOPS, and THE TEMPTATIONS.

Dale has received professional speaking's two highest awards as presented by the National Speakers Association. In 1988 Dale earned the designation of CSP, Certified Speaking Professional; and in 1995 was given the highest recognition of CPAE, Council of Peers Award for Excellence. Dale is one of only 67 speakers in the world to hold both of these titles.

Dale is the author of Laughter Doesn't Hurt and publishes "Funny Business," a monthly humor newsletter with international distribution.
Books