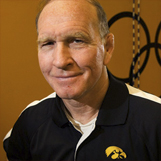 Coach Dan Gable
Gold Medalist & Wrestling Coach
X
Program Descriptions
Team Building
Learn Dan's formula that brought 15 NCAA titles and 21 straight Big 10 Championships in 21 years of coaching. Dan will speak specifically on 'Building Performance', 'Repeat Performance', and 'Record Performance'.

Performance Enhancement
Find out what it takes to get to the pinnacle in your profession and in life. Motivation
Learn the techniques Dan used to motivate himself and his teams to unprecedented success.

Overcoming Adversity
Dan opens up about the major obstacles he has overcome personally and professionally and how they have remained a constant source of motivation throughout his life and career.
Why Book Dan Gable?


As one of the top 100 Olympians of all time, he offers an audience insight into the mind of a winner.
With his storied career as the Hawkeyes coach, he knows how to motivate any group to greatness.
During his prep and college careers, Dan Gable compiled an unbelievable record of 182-1. He was undefeated in 64 prep matches, and was 118-1 at Iowa State. Gable was a three-time all-American and three-time Big Eight champion. He set NCAA records in winning and pin streaks.

After college, Gable added titles at the 1971 Pan American Games, the 1972 Tbilisi Tournament and the 1971 World Championships. He won an unprecedented six Midlands Open championships and was that meet's outstanding wrestler five times. In 1972, he won a gold medal at the Summer Olympics without surrendering a point to any of his opponents. The Soviets came to the Olympics with only one goal in mind; to defeat Gable. They were unsuccessful.

In Gable's final 21 Olympic qualification and Olympic matches, he scored 12 falls and outscored his nine other opponents, 130-1. The single point being scored by Larry Owings, who defeated Gable in his final collegiate match.

As the University of Iowa's all-time winningest wrestling coach from 1977 to 1997, Gable compiled a career record of 355-21-5, all at Iowa. He coached 152 all-Americans, 45 national champions, 106 Big Ten Champions and 10 Olympians, including four gold, one silver and three bronze medalists.

The Hawkeyes won 25 consecutive Big Ten championships, 21 under Gable as head coach and four while he was an assistant coach and administrator. He had a winning percentage of .932 and captured nine consecutive (1978-86) NCAA Championships. On only five occasions did a Gable-coached team lose more than one dual meet in a year. In fact, Gable's teams averaged over 17 wins and just one loss per season. The 1996-97 season added the final chapter to Gable's storied career. In late January, he underwent hip replacement surgery, missing four dual meets while recuperating. He reappeared in the Hawkeyes' corner just in time to lead the team to their 24th consecutive Big Ten title and 17th NCAA title. Iowa shattered its own NCAA team points record, scoring 170 points during the three-day tournament in Cedar Falls.

Gable has coached many United States teams in international freestyle competition. He is a three-time Olympic head coach (1980, 1984 and 2000). The 1984 Olympic team, which featured four Hawkeyes, won seven gold medals. He was an assistant freestyle coach at the and 1976 and 1988 Olympics. Gable also served as head coach of the World Team in 1977, 1978, 1979, 1983, 1994 and 1999, as well as 10 World Cup teams winning three team golds in World Cup competition. Gable coached the U.S. team to a bronze medal at the 1986 Goodwill Games, and has led several all-star teams to Europe and the Soviet Union.

Gable was named to the U.S.A. Wrestling Hall of Fame in 1980, and to the U.S. Olympic Hall of Fame in 1985. He was selected the nation's outstanding wrestler by the AAU in 1970, and the U.S. Wrestling Federation in 1971. Gable was the Amateur Wrestling News Man of the Year in 1970.

Some of his most recent accolades include being named the top wrestler of the 20th Century by Gannett News Service, listed as one of the top coaches in the 20th Century by ESPN and named Iowa's top "sports figure" in the past 100 years. In 1996, Gable was named one of the "100 Golden Olympians", an honor bestowed to the top 100 U.S. Olympians of all time.