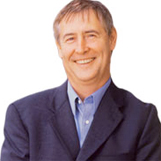 X
Program Descriptions
Emotional Dimension of Shopping Styles of Men & Women
Emotional Response: Understanding your Customers
Quantifying Gut Reactions
Facial expressions: Marketplace applications
Neuromarketing
Facial expressions: Technology in Business
And Many More!
Dan Hill is a recognized authority on the role of emotions in consumer and employee behavior with over a decade of experience running his scientific, emotional insights consultancy: Sensory Logic, Inc. One of the company's unique research tools is facial coding which is highlighted in Malcolm Gladwell's best-seller Blink and serves as the basis for Fox's prime-time hit "Lie to Me".

A frequent speaker at business conferences and seminars from coast to coast, as well as in Europe and Asia, Dan's blue-chip clients have included Target, Toyota, Reebok, Whirlpool, American Express, Capital One, Nokia, GlaxoSmithKline, among dozens of other major brands.

Dan appeared on "The Today Show", FOX, CNN, and MSNBC regarding his facial coding analysis of the 2008 Presidential Election. Other TV appearances have involved baseball's steroid scandal and criminal cases. Press coverage of Dan and his company include The New York Times, USA Today, The Wall Street Journal, Advertising Age, TIME.com, China Forbes, Entrepreneur, LA Times and Kiplinger's among many others.

Among Dan's books is Emotionomics: Leveraging Emotions for Business Success (Kogan Page Publishing, 2009), was chosen by Ad Age as one of the top 10 must-read books of 2009. Dan's newest book, About Face: Ten Secrets to Emotionally Effective Marketing,released in September, 2010 (Kogan Page Publishing).

Dan received his Ph.D. from Rutgers University following studies at Brown University, Oxford University, and St. Olaf College. Dan and his wife, Karen Bernthal, a clothing designer, live in St. Paul, MN.
Books

Emotionomics

About Face