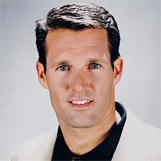 Dan Jansen
Olympic Gold Medalist, Speedskater
Traveling From
North Carolina
X
Program Descriptions
Turn Dreams Into Reality
Going For the Gold
In 1992, after promising his sister on her deathbed that he would bring home the gold, Dan Jansen fell during the medal round and failed to place. Two years later, he finally won the Olympic gold and carried his new daughter on his shoulders during his victory lap.

Jansen became the world record holder in both the 1000 meter and 500 meter races on ice. He was the first man ever to break the 36 second mark in the 500 meter. In addition, he is the winner of over 30 World Cup speed-skater races and more than 50 World Cup Medals. In 1995, he was awarded the Amateur Athletic Union's James E. Sullivan Award which is presented annually to an outstanding athlete in the U.S. who exhibits the qualities of leadership, character, sportsmanship, and the ideals of amateurism.

In addition, Jansen established the Dan Jansen Foundation which contributes to amateur speed-skating and the National Leukemia Society (the illness that claimed the life of his sister). He is also a member of the Board of Directors for Special Olympics International. Jansen is working for CBS Sports as an on-air personality and is an avid golfer. Dan's heroic story was recently featured in a made-for-TV movie.

Since winning the Gold Medal in 1994, Jansen has become a popular motivational speaker among corporate groups, speaking on determination and pursuing dreams.