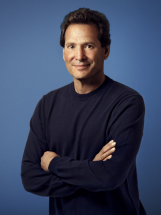 Dan Schulman
President & CEO of Paypal
X
Program Descriptions
The next generation of consumers already conducts the vast majority of their commerce, retail, and banking activity online, a development that presents opportunities and risks for every industry. Schulman helps businesses identify these opportunities, navigate these risks, and innovate products and practices to best meet the expectations of tomorrow's customers. Drawing from his role in the Fintech (r)evolution, Schulman discusses the intersection of disruption, technology, and commerce in an era in which the rate of change for business is exponential and organizations must be nimble, adaptive, and forward-thinking. As a sitting CEO at one the largest companies in the online financial space, Schulman faces these questions every single day. He helps audiences understand how to foster a culture of innovation and manage the common security concerns inherent to advancing technology.
Fostering a Culture of Innovation


How Technology is Redefining Business


How to Keep Revolutionizing Your Business While Dealing with Regulatory Issues


Innovation and Serving the Customer of Tomorrow


The Evolution of "Fintech" and Payment Systems
Why Book Dan Schulman?
One of the most successful chief executives in the fiercely competitive e-commerce arena, Dan Schulman brings experience culled from a long career of organizing, focusing, and growing business to his post as President and CEO of PayPal, where he is leading the company into its next phase as an independent business.
Prior to joining PayPal, Schulman spearheaded growth and innovation at some of the world's largest companies, including Priceline, AT&T, Virgin Mobile, and American Express. During his time at Priceline, as President and CEO, Schulman led the company through a period of rapid expansion, nearly tripling revenues in one year and growing the customer base from 2 million to 5.3 million users. As the founding CEO of Virgin Mobile, he was named Entrepreneur of the Year by Ernst and Young and one of the hundred most creative people in the business by Fast Company.

PayPal—also the parent company to the popular money-sharing app Venmo—is a member of the S&P 100, with annual revenues of over $9 billion and 17,000 employees worldwide. As a pioneer in Financial Technology (today known as "Fintech") and mobile technology, Schulman leads PayPal by exploring unique growth opportunities that offer a superior user experience in their mobile and e-commerce operations.