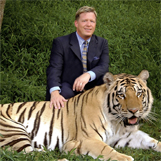 Dan Stockdale
Business Relationship Expert and Exotic Animal Trainer
X
Program Descriptions
Taming Tigers
It's a Jungle in There!
Stop Lion - Start Selling!
Taming the Tiger of Teamwork
Dan Stockdale is a highly successful leadership speaker with a reputation for effectively transforming companies of all sizes from inefficient, marginal performers to industry leaders known for the highest quality of service and performance.

What makes Dan so effective is his ability to combine best-practice leadership principles with his expertise in human and animal behavior. With an educational background in psychology and decades of experience working with exotic animals, Dan has made remarkable discoveries that have led to the development of principles that are as revolutionary as they are practical and effective. Dan uses humor, real-world examples, and exciting demonstrations to drive home these success principles.

An amazing keynote speaker with a powerful message, Dan inspires lasting change through his entertaining and unforgettable presentations. His leadership best-practices principles have a direct impact on revenue, peak performance, positive customer experiences, and ultimately, profits of every organization he touches.

Dan's presentations weave in his extraordinary background and experience that includes establishing a concert production company, a healthcare administration company, a real estate development firm and a continuing-education organization. Dan's message is always on target, practical and undoubtedly the most memorable of all the presentations your conference attendees will hear all year!