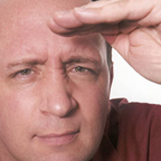 From The LiE (Long Island Entertainment) Dan Wilson is one of those breezy, gentle types that will hit you like a building collapsing if you're not paying attention. A naturally funny man, Wilson ripped through an inspired set that somehow connected Rudy Vallee-style rapping (Go ahead, picture that, we'll wait), midget-wrestling, plane flight annoyances, Barney Fife impressions and a visit to the dentist that was TOO accurate. A tremendous amount of his material is potently funny, a sucker punch that you don't expect from an innocent smile and an average Joe, but Wilson is one of the great "class clowns" in the business. This is good-time comedy, clean, inoffensive but still mondo humorous and it'd be a darn good idea to see for yourself. Dan Wilson is a comedic force to be reckoned with. Long a favorite on the college and club circuits, Dan began to branch out with a talked about appearance at Budd Friedman's American Comedy Convention, held at The Riviera in Las Vegas. With that industry exposure under his belt, he began a string of television appearances including "Star Search `90," A&E's "Evening at the Improv," MTV's "Half Hour Comedy Hour," and Lifetime's "Girls' Night Out." His rubbery face and keen ear for voices earned him status as a recurring sketch performer on HBO's "Hardcore T.V." Dan has opened for Dana Carvey, Richard Lewis, Emo Phillips, and Richard Belzer. His quirky style mixes keen observations with outrageous physical humor, all delivered in a genial "I'm-only-trying-to-fix-the-world-before-it's-too-late" deadpan.

From The LIE (Long Island Entertainment)
Something you don't often see is a comic who's funnier than his material when his material is actually good. You see a lot of new comics who have better deliveries than jokes, but their material is usually raw or straight-out pathetic, but when it comes to veterans, you usually see comedians who are as funny as the material they wield. Dan Wilson is the exception to the rule, a mischievous and likeable bloke that is funny whether he's pausing to look at you or working with sound effects, or actually doing the situational humor that's his trademark. His recent show at Brokerage reaffirmed that the man is a natural.

After a steady flow of laughs, it was Wilson time and the light-hearted lunatic was off and running from the second one. If Wilson isn't getting huge laughs from physical humor, he's getting you with smart little ideas, visual gags or singing. You have not lived until you've seen midget wrestling, which he did NOT do this show, but it mattered little. Wilson was uncorking some hysterical tomfoolery as a Rudy Valee-styled rapper (something else you must see to believe), creating nervous laughter from a "trip to the dentist" and tossing in a world-class Barney Fife impression whenever there was the threat of a quiet moment. Wilson isn't one of those comics that argue about at the water cooler days later because of the profound things he says, no, rather, he's the type of stand-up that reminds you of those summer night when you were a kid when your best friend got you giddy and made you laugh at nonsense for so long that it hurt when you went home. This is light, good-natured humor, whether it's recollections of the airlines or just clowning off of crowd members. Beyond being a comedian, Dan Wilson is just a fun guy to be around.

Dan Wilson would get solid marks in everything from his material to his timing to his stage persona (which is clearly a down-to-earth guy as opposed to what we consider a celebrity). He's one of those acts that would crack up a firehouse as easily an Elks lodge, a bachelor party as fast as a PTA bakesale, a corporate meeting as fast as a little league fundraiser. People don't usually compare universal appeal to the shock artists that get record deals and HBO specials, the question does eventually become: What is true comedy? True comedy is the ability to make the masses laugh at life and the experience; Dan Wilson practices true comedy with less hoopla, hype and notoriety. He practices it as well as anybody in the business.