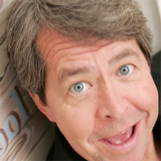 Dave Dugan
Speaker/Humorist/Impostor
X
Program Descriptions
Laughing Your Way Through Life
A laugh-packed performance customized to best relate to your group or company. Unique observations and tips delivered in his Bob Newhart-like everyman style, Dave is often the victim of his own situations.

The Impostor
His outrageous vision and advice lends itself to unpredictable humor that will have an audience wondering at one moment," how does he know so much" and at the next thinking, " this new guy's insane."

Beating the System
Dave's unique way to deal with the economy, providing "good advice" to beat the financial blues where typically he again ends up being the victim.

Mr. Hospital Grown
A "survivor" of numerous outpatient surgeries and procedures has given Dave a humorous look at the industry, which he shares in his program , "Mr. Hospital Gown." Often presented at hospital events and to those in the medical field.
A unique twist on the standard speaker and clean, original humor is what you can expect from Dave Dugan. He created clever topics an each individual corporation, customizing a presentation tailored especially for them. His observations as a stand-up comedian earned Dugan national television appearances on HBO, Comedy Central, The Arsenio Show, Evening at the Improv and a host of other networks of shows. His relatable material is as effective at a corporate event as it is on television. Headfaking Your Way Through Life (A how-to on beating the system) is just an example of a variety of irreverent messages Dugan offers in his presentation… messages that he throws aside upon realizing a "new, better message." The audience loves this and recognizes his parody of the speaker with a strong singular message. Welcoming participation, Dugan's drown-to-earth approach helps in making audience members "open up" and see the humor in themselves.

Some Corporations have hired Dave Dugan to portray personalities ranging from the out-of-state consultant to the pathetically desperate competitor. "The Impostor"… can provide and extra path of humor for your next event.

Whatever hat he is wearing… Humorist, Stand-Up Comedian, Master of Ceremonies, Moderator, Facilitator, Impostor, or Closing Speaker… Dave Dugan designs a truly original performance to relate to your group.