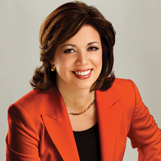 Deb Rosado-Shaw
Entrepreneur, Business Leader, Author of Dream Big!™
X
Program Descriptions
Success Strategies for Women: Access to Increased Performance, Impact & Fulfillment
I have the privilege of being behind closed doors, advising and coaching some of the most successful women leaders and mavericks in business, politics and national non-profits today. One of the things I've learned is that from the time we're bundled into our pink buntings on through adulthood, we're fed a daily diet of fantasies. And these fantasies are often at the root of turning our dreams into disappointments, our freedom into fear and our success into suffering. Through my own experiences and theirs, I bring you rarely disclosed truths about what success really takes. Hard-won lessons you can put to use right now to increase your performance, impact and fulfillment.

Creating a Culture that Empowers Performance: Engage, Enable & Empower Your Team
We keep going back to the solutions of the past hoping they will continue to yield results in the complexity of the present. Again and again we train our teams in the latest tips and techniques only to re-learn that performance isn't a paint-by-numbers game. There simply isn't a playbook comprehensive enough to match every circumstance up ahead. What we need is a self-generating capacity and willingness for people to invent in the moment, speak up, get heard, build trust, take effective action and really be of impact. They've got to own it and be at the source of it themselves – and that's exactly what I teach them to do.

Mining Diversity to Deliver Innovation: How to Create a Highly Effective Workforce
The war for talent is here to stay. And that talent will be increasingly diverse. What will it take to mine an irreversibly complex demographic to deliver game changing innovation and performance?

Well, we can't keep doing more of the same and expect different results. The traditional business case for diversity is weak. Just having more diverse people at the table isn't delivering enough results. In fact, in many cases, it has introduced a complexity that most organizations are ill-equipped to handle.

As we watch the growing exodus of women and people of color from corporate America, we keep learning a tough lesson –- that no amount of prescribed behavior or mandated actions will leave people feeling honored, valued or included. Yet, without mastery here, companies and organizations take on an unnecessary risk to generating innovation and delivering performance.

From the Barrio to the Boardroom: Celebrating Hispanic Heritage
An expert in navigating uncertainty, I was raised in the nation's poorest congressional district, where gangs ruled the street corners and my biggest dream was about having heat and hot water. Along the way I developed strategies for success that formed a bridge from tough inner-city beginnings to award-winning entrepreneur and advisor to Fortune 500 companies.

Using a powerful narrative, sprinkled with humor and personal and professional victories, I intentionally move the audience through specific use-now strategies that will help them make results happen. I celebrate our Latino Heritage and use it to challenge their assumptions about what is possible.
Deborah Rosado Shaw is senior vice president, Chief Global Diversity and Engagement Officer of PepsiCo, a global food and beverage company with net revenues of more than $66 billion and a product portfolio that includes 22 brands that generate more than $1 billion each in estimated annual retail sales. PepsiCo's main businesses – Quaker, Tropicana, Gatorade, Frito-Lay and Pepsi-Cola – make hundreds of enjoyable foods and beverages that are loved throughout the world.

Deborah, who assumed this role in July 2014, provides leadership in guiding PepsiCo's global Diversity and Engagement (D&E) strategy to bring together diverse strengths, backgrounds and perspectives to achieve the company's strategic business imperatives, advance its Performance with Purpose goals and drive innovation. Building on PepsiCo's deep legacy in D&E, she helps PepsiCo ensure that D&E is ingrained in PepsiCo, and expands pathways for developing global, multicultural thinkers, doers and innovators.

Deborah was a member of PepsiCo's Ethnic Advisory Board for 12 years, whereby she played a critical role in establishing a strategic platform that helped PepsiCo elevate its prominence as one of the most diverse companies working with minority business owners.

Deborah is a nationally renowned visionary, business leader and entrepreneur. Throughout her career she has helped Fortune 500 companies and organizations engage diverse workforces to support their business strategies. As principle of the Rosado Shaw Group, LLC, Deborah leveraged her experience across several industries including food and beverage, consumer products, cosmetics, private equity, retail and technology.

Deborah has been featured on CNN, FOX, NBC, "Oprah," Telemundo and in USA Today for her leadership in diversity and engagement. She has earned numerous awards, including "Trailblazer Award", Women's Leadership Exchange and "Entrepreneur of the Year" from the National Foundation of Women Legislators. Hispanic Magazine named her among the "100 Most Successful Latinas in the U.S."

Deborah earned her B.A. in Political Science from Barnard College, Columbia University. Deborah is based in Purchase, N.Y.
Books

Dream Big