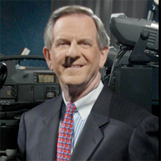 Dennis McCuistion
Award Winning Television Host, Former Bank CEO
X
Program Descriptions
The Seven Challenges Facing Businesses in the Future…and How to Meet Them
Many small and middle market businesses are still doing well today; however, there are continuing challenges to be met if long term success is to be assured. In this seminar the participant will not only identify his or her business's most important challenges, but will actually develop a plan of action to meet those challenges

The Seven Challenges Facing Financial Institutions in the Future…And How to Meet Them
This highly interactive presentation identifies the major challenges that financial executives are facing now and in the future as well as offers several major solutions to those challenges. Participants will receive information that is immediately applicable for their financial institution to not only survive, but thrive in the next few years.

Looking Back At the 20th Century (and a Short Peek at the 21st Century
We are now over a decade into the 21st Century and our focus is on the future. Unfortunately, the future can only be understood properly if we have a perspective on where we are today. And to understand today requires an understanding of the past, thus a "look back at the 20th Century."

The CEO's Responsibility to the Future
A case could be made that the entrepreneur, the business leader has made America what it is today - an economic powerhouse never before seen on the planet. And yet, another case could equally be made that it was America's values, its limited government, the right to contract and private ownership of property that formed the foundation on which business leaders have prospered.
Why Book Dennis McCuistion?


As a consultant, speaker, teacher and author, Dennis helps companies and individuals develop and implement strategies for change.
He facilitates strategic planning and offers advice on financial and leadership issues.
Dennis is a former bank CEO who consults with financial institutions and other businesses on top management issues. He facilitates strategic planning sessions, offers advice on director/CEO issues and serves on boards and audit committees of public and private companies.

His keynote speeches are filled with humor and inspiration designed to move audiences to action. He develops and teaches seminars on banking, economics and free enterprise for financial institutions, corporate clients, conferences, schools and associations across the country. Dennis excels as a moderator who brings out the best in people.

Dennis is the author of three books on banking and hundreds of trade articles. He teaches business communications and corporate governance at UT Dallas and is Executive Director at the Institute for Excellence in Corporate Governance.

He is the host and executive producer of the award winning McCuistion television program on PBS, syndicated weekly throughout the U.S. The McCuistion Program provides an intellectually stimulating and objective forum of ideas, always "Talking About Things That Matter With People Who Care."