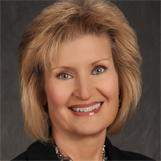 Dianna Booher
Expert on Communication, Prolific Author, Consultant
X
Program Descriptions
Executive Presence to the Power of CTM
Audiences will identify concrete characteristics that set them apart as influencers in the C-suite. They'll learn to think on their feet, structure a message for executives, and pay attention to body language so that it supports rather than sabotages their message.

What MORE Can I Say? Persuasion Principles to Change How People Think and Act
Need to get a across quickly? Expand influence? Persuade others to change their behavior? Audience members will walk away with guidelines for moving people to action. Thus, they'll avoid common pitfalls that lead to lost productivity, low morale, and lower profits.

Get Your Book Published to Promote Your Career and Build Your Credibility
Anyone today can publish a book. In this session, Dianna will show attendees how to SELL their book to a major publisher so that it gets wide distribution, receives the attention it deserves, and earns the author credibility and career advancement.

Writing in Layers
Audience members will walk away with a 12-step, repeatable process for writing a quality book quickly—in 7-21 days.
Why Book Diana Booher?
In a few words, Dianna's practical ideas are immediately usable. Her track record and solid research lend credibility to the insights, techniques, and tips. Her interactive delivery engages the audience.
Dianna Booher works with organizations to increase their effectiveness through clear communication and with leaders to increase their impact by a stronger personal presence.

She is a prolific author of 46 books, published in 26 languages, with nearly 4 million copies sold. Her latest books include:
What MORE Can I Say? Why Communication Fails and What to Do About It
Creating Personal Presence: Look, Talk, Think, and Act Like a Leader
Communicate with Confidence: How to Say it Right the First Time and Every Time
The Voice of Authority: 10 Communication Strategies Every Leader Needs to Know

Several have been major book club selections. Her work is also widely available in audio, video, and online courseware.

Major Media: Good Morning America, The Wall Street Journal, USA Today, Fast Company, Forbes.com, Investor's Business Daily, Bloomberg, NPR, CNN International, FOX, CNBC, The New York Times, Washington Post, the LA Times, Chicago Tribune, Industry Week, Success, and Entrepreneur have interviewed her for opinions on critical workplace communication issues. She also a regular blogger for The Huffington Post and The CEO Magazine.

Founder of International Training Company: As founder of Booher Consultants and more recently Booher Research, Dianna and her staff of trainers have taken her communication principles and techniques to hundreds of organizations around the world. Communication programs offered by Booher Consultants, her former training company, include business and technical writing, proposal writing, sales presentation skills, interpersonal skills, customer service, resolving conflict, effective meetings, and listening.

National Awards: Dianna delivers very focused programs addressing clients' specific communication needs as well as keynotes on other personal growth topics. She has spoken to audiences on six continents.

IBM has honored Dianna with its Star Quality Award, given to the highest rated external supplier of professional education. Booher was also named Frito-Lay's Vendor of the Year. She also received the New York Film Festival's Cindy Award for her elearning series. Executive Book Summaries included Dianna's Cutting Paperwork in the Corporate Culture in their "Best of the Best Business Books of the Decade." Additionally, Successful Meetings magazine named Dianna on its list of "21 Top Speakers for the 21st Century." Executive Excellence Publishing named her as one of the "Top 100 Thought Leaders" and one of the "Top 100 Minds on Personal Development."
Books