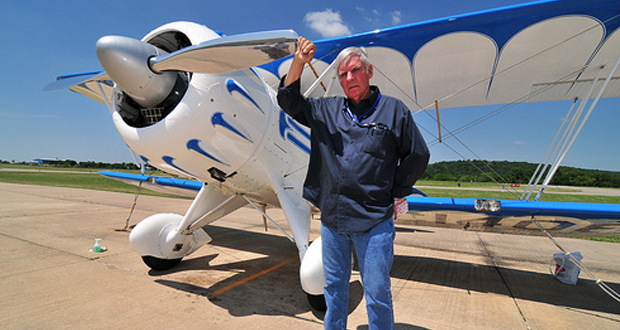 Dick Rutan
Commander of the World's First Non-Stop, Unrefueled Flight
Traveling From
California
X
Program Descriptions
Around And Out Of This World
Dick's narration about his career in the Air Force, Voyager's flight around the world, a second world flight in a homebuilt, record setting in a rocket powered airplane, being stranded on the North Pole, and many other adventures will keep your audience on the edge of their seats!

Dream, Believe, Accomplish
A master story-teller, Dick Rutan's recall of his many dramatic adventures will prove that, "You are limited only by what you can dream."

An Arctic Adventure
For more than a dozen hours Dick and the airplane trek crew was stranded on the top of the world. Learn and laugh at Dick's disappointment that the rescue came so soon!
Why Book Dick Rutan?
An expert on strength under pressure, preparation, and diligence, Dick is a great motivational keynote speaker and historical figure
His most requested keynotes are centered on team building and leadership
Twenty-five years ago, Voyager Aircraft's non-stop and unrefueled flight around the world in December of 1986 placed Mojave proudly on the map and placed Dick Rutan in the history books.

In December of 2005, Dick set another world record. This record was set in the EZ-Rocket for the longest distance in a ground launched rocket powered aircraft. He flew from the Mojave Spaceport to the California City Airport. Touted as the "shortest long distance flight," this record is recognized by the National Aeronautics Association (NAA), and is in the record books.
On board that flight, Dick carried mail to be delivered to California City, as well as American flag patches and flight covers that will be sold to raise money for The Dick Rutan Scholarship Fund, a fund that awards multiple scholarships each year. In April of 2006, Dick was awarded the NAA "Most Memorable Flight of 2005" award in Washington, DC for the flight from the Mojave Spaceport to the California City Airport. Also, for that record setting flight, Dick was awarded the Louis Bleriot Medal in November of 2006. This prestigious medal was established in 1936 in memory of Louis Bleriot, a great aviation pioneer.

Early in 2005, Dick Rutan formed a new company called Voyager Aerospace Corporation. He has four projects emerging with this company, and two of them are unique aircraft.

In 2003, Dick Rutan was elected as a director of the East Kern Airport District (EKAD). With the launches and successes of Burt Rutan's (Dick's brother) SpaceShipOne, the EKAD has attained status of Spaceport as well. Dick is proud to be a governing member of this newly emerging space tourism industry.

In June of 2003, Dick Rutan became an Eagle at the Gathering of Eagles in Montgomery, Alabama. This prestigious honor was his in 1988, two years after the Voyager flight, and they bringing him back for a second induction to honor his service in the Air Force. He will join the ranks with aviation and space greats including Buzz Aldrin, Gene Cernan, Neil Armstrong, Pete Conrad, and other flyers that include Pappy Boyington, Joe Engle, and many others.

In July of 2002, Dick Rutan was inducted into the National Aviation Hall of Fame in Dayton, Ohio. This esteemed enshrinement honored Dick and three other Americans "whose heroism helped define 20th Century America."

In 2001, Dick Rutan became the chief test pilot for XCOR and has been flying the first-ever rocket powered experimental Long EZ (pronounced Long Easy). Named the EZRocket, this air vehicle has not only set a world record, but the proof of concept is also setting the future for rocket travel and the intensifying sport of rocket powered aircraft racing.

In May of 2000, Dick Rutan was a last minute addition to a sightseeing airplane trek to the North Pole. The biplane, a Russian AN-2 Antonov, landed beautifully on the glass-like ice, but within seconds, the joyride was headed for disaster. Unseasonably thin, the ice quickly began to stress and crack under the weight of the plane. A quick power-up to 'go-around' and locate a thicker spot on the ice resulted in the aircraft suddenly dipping nose first through the ice, sinking toward the freezing ocean, and certain death. The wings of the AN-2 suspended the aircraft so the crew could retrieve their survival equipment that was packed in the rear of the sinking plane. For more than a dozen hours, the crew was stranded at the top of the world. In the distance, they heard a faint engine and soon would see the Twin Otter from First Air that would rescue them and return them to their families.

Dick obtained his balloon pilot's license in 1995 (Commercial free air balloon; helium and hot air). In 1998, Dick Rutan attempted to make the first ever flight around the world in a balloon in the Global Hilton. That attempt ended three hours after takeoff. The balloon's helium cell ruptured (due to a manufacturer's defect) while the team floated at 30,000 feet. When the crew was at a safer 6,000 foot altitude, the crew dramatically bailed from the crippled craft. The capsule landed unmanned in Texas and burst into flames.

Within minutes of landing on terra firma, Dick pledged to try again, and built a second capsule called World Quest. This, with a new constrained volume helium lifting system (super pressure style) held promise Dick would indeed succeed in balloon world flight. The World Quest Project ceased when a rival team captured the milestone in March of 1999.

From April 4th to June 24th of 1997, Dick completed The Spirit of EAA Friendship World Tour, along with flight lead, Mike Melvill. This "Around The World In 80 Nights" flight was completed in two small experimental Long-EZ aircraft that Dick and Mike built side by side two decades ago.

Since Voyager's world flight, Dick has been traveling the world on the lecture circuit, telling his tale of the magnificent Voyager project and flight and of the North Pole adventure. The Voyager story is one of tremendous courage, of vision, and of adventure and is often referred to as 'aviation's last first.'

Dick received both his solo pilot's license and driver's license on his sixteenth birthday. At the age of nineteen, Dick joined the Air Force Aviation Cadet Program, was commission Lieutenant and later received a Bachelor of Science Degree at the American Technological University through the Air Force Professional Education "Boot Strap" Program.

As a Tactical Air Command fighter pilot during most of his two decades in the Air Force, Rutan flew 325 combat missions in Vietnam, 105 of them as a member of a high-risk classified operation commonly known as the "MISTY's." While on his last strike reconnaissance mission over North Vietnam in September of 1968, he was hit by enemy ground fire, and forced to eject from his burning F-100. Dick evaded enemy capture and was later rescued by the Air Force's "Jolly Green Giant" helicopter team. Before retiring from the Air Force in 1978, Lt. Col. Rutan had been awarded the Silver Star, five Distinguished Flying Crosses, 16 Air Medals and the Purple Heart.

After retirement, Dick joined his brother, Burt, as Production Manager and Chief Test Pilot for Rutan Aircraft Factory. Dick Rutan flew the test flight development program of many military and civilian experimental aircraft and set numerous world speed and distance records in his Long-EZ, a popular Rutan designed home-built airplane. Dick was awarded the Louis Bleriot Medal by the prestigious Federation Aeronautique Internationale during a ceremony in Brussels, Belgium in recognition of these record-setting flights.

In early 1981, Dick Rutan resigned from his brother's company and founded Voyager Aircraft, Inc., and prepared to complete the first-ever around the world, non-stop, non-refueled flight. On the morning of December 14, 1986, a fuel laden Voyager took off on the history making flight. Nine days, three minutes and forty four seconds later, Dick set the storm-battered Voyager down on the dry lakebed at Edwards Air Force Base in California, successfully completing the six-year quest. The Voyager is now proudly suspended in the Smithsonian Air and Space Museum's "Milestones of Flight" gallery in our nation's capitol.

Four days following the historic flight of the Voyager, President Ronald Reagan awarded Dick the Presidential Citizen's Medal of Honor at a special ceremony. The medal has been presented only sixteen times in the history of the United States.

Dick's wife, Kris, is a kindergarten teacher. Together, they have four daughters and nine grandchildren.