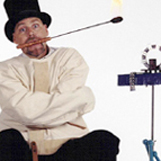 Doc Swan
Escape Artist, Fire Eater, Glass Walker, Magical Comedy, Variety Acts
Traveling From
New Jersey
X
Program Descriptions
Magical Comedy and Variety Acts
DOC SWAN once heard that the average person laughs eight times a day. To that, he replied "Guess that makes my audiences above average".

Hailing originally from the Philadelphia area, Doc's love of entertaining has taken him from state to state, country to country for over thirty years.

His talents were apparent early on, as neighbors would notice "circus tents" going up in the backyard, and playmates being treated to magic shows or trained animal acts featuring Doc's pet turtle. While still in school, Doc was performing with puppets and comedy (even when he wasn't supposed to), and soon became a semi-pro, doing magic shows for local events and school assemblies.

June of 1973 found Doc on the road, traveling the length of the East Coast his first summer out of High School.

With his insatiable desire to "learn it all" he has added to his repertoire constantly, teaching himself his various acts, largely by trial and error...and is always finding new ways to push the envelope on how much the human body can do. As a sideshow fan, he has devoted a special interest to that field, and has fond memories of his trips around the country as a sideshow fire-eater and sword swallower - a title held by few (if any) this day and age.

He has honed his talents with "squeaky-clean" humor, and a middle-of-the-road appeal. Audiences can sense his genuine love for his craft, and respond to it.

Watch Doc Swan in action, and you can consider yourself above average.