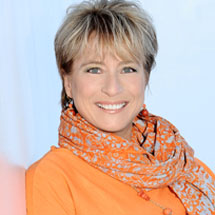 Dorothy Breininger
"Dorothy The Organizer"
Traveling From
California
"Dorothy The Organizer" is America's Most Innovative Professional Organizer. Known to millions as the fearless-yet-endearing problem solver on the Emmy-nominated Lifetime TV series "Hoarders Family Secrets," Dorothy is also the best-selling author of five books, including her latest, Stuff Your Face or Face Your Stuff. Dorothy is also the organizing expert for Zillow.com, MariaShriver.com and the Huffington Post.

Dorothy is the creator of the "Curb The Chaos" System which helps individuals conquer their clutter (physical, emotional and body clutter) in a pleasing and fun way, as well as the most trusted cloud based system, "Digital Lifecloud."

Dorothy is a member and lecturer for the National Association of Professional Organizers (past national board member and past Los Angeles President) and Institute for Challenging Disorganization and is a highly sought-after international speaker who energizes and inspires her audiences to produce results and take immediate action.

In addition to being featured in the Wall Street Journal, Forbes and O Magazines, Dorothy appears regularly on the Today Show, the Dr. Phil Show, the VIEW, The Doctors, QVC and PBS. Dorothy lives with her husband in Los Angeles.