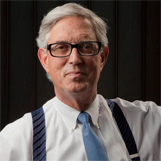 X
Program Descriptions
TouchPoints: Creating Powerful Leadership Connections in the Smallest of Moments
Today the information age has morphed into the "interruption" age. People are swamped with work and emails. And just when they hunker down to get something done, a colleague knocks on the door. Or the phone rings. People tend to push these interruptions aside to focus on the "real work." But in this counter-intuitive keynote Doug shows us how these brief interactions are the "real work" today and they will be even more so tomorrow. Highlights include how to contribute to a TouchPoint in a meaningful way, the importance of Declaring Yourself, and Walking the Talk.
"The action is in the interaction." – Doug Conant

LEADERSHIP: A CEO Perspective: Lessons Learned from a Lifetime of Transformation
Just as Gandhi advised that we must be the change we want to see in the world, leaders who wish to profoundly transform organizations must lead by example. In this keynote, turnaround CEO Doug Conant shares his perspective based on a lifetime of effectively leading organizations towards renewal and growth. Highlights include his guiding principles for leading change and his personal "leadership lessons" from over 35 years of corporate experience and his personal leadership model which provides listeners with the tools needed for enduring transformation.
"You can't talk your way out of something you behaved your way into." – Doug Conant

PERFORMANCE: A CEO Perspective: Creating a High Performance Organization
In this inspiring keynote the cornerstone of effectively leading others to high performance is revealed. At the heart of an optimally performing organization is the abundant notion of leadership which teaches us to be tough-minded on standards and tender-hearted with people. Highlights include the genius of the "and" and the "Forming, Storming, Norming, Performing" model for excellence.
"My ambition is to help build world class organizations that defy the critics and thrive in the face of adversity." – Doug Conant

ENGAGEMENT: A CEO Perspective: It's All About the People
How do we engage employees in the most impactful way? In this keynote Doug addresses his "people-first" approach to making work meaningful and building powerful organizations. Learn the tools to effectively and genuinely acknowledge success and show people you "have their back" while also keeping a critical eye on performance. Hear anecdotes that illustrate the notion of visibly energizing and supporting stakeholders so they will vigorously fight for the good of the company. Highlights include Conant's CEO tips for Attracting, Developing, Engaging, and Retaining the best employees and the profound effect of a personal thank you.
"To win in the marketplace, you must first win in the workplace." – Doug Conant
Douglas R. Conant, New York Times bestselling author and keynote speaker founded Conant Leadership, a growing community of people dedicated to improving the quality of leadership in the 21st century, in 2011. He is also honored to serve as Chairman of Avon Products as well as Chairman of the Kellogg Executive Leadership Institute (KELI) at Northwestern University. The newly formed KELI initiative is designed to help leaders of today enhance their ability to lead in the "here and now." This program combines the best insights of the Kellogg academic curriculum with the best practices of "world class" leaders across the landscape at the highest levels of the organization.

An advocate for ethical practices and corporate responsibility, Conant is the current Chairman of CECP (formerly known as the Committee Encouraging Corporate Philanthropy). He is an active member of the boards of the National Organization on Disabilities (NOD), the Partnership for Public Service (PPS), Enactus, the Families and Work Institute (FWI), and the International Tennis Hall of Fame (ITHF). He is also a former chairman of both the Grocery Manufacturers Association (GMA) and The Conference Board (TCB), where he remains a Global Counselor, and he is a former board member of Catalyst.

Conant joined Campbell with 25 years of experience from three of the world's leading food companies: General Mills, Kraft and Nabisco. He began his career in 1976 in marketing at General Mills. After 10 years, he moved to Kraft where he held top management positions in marketing and strategy. Immediately prior to coming to Campbell, he was President of the $3.5 billion Nabisco Foods Company where he led his team to improved marketplace performance and five consecutive years of double-digit earnings growth.

Conant earned his BA degree from Northwestern University and his MBA from the J.L. Kellogg School of Management at Northwestern.

Conant speaks widely to people and organizations on effective and enduring leadership practices for the modern age. He is the co-author with Mette Norgaard of the New York Times bestseller Touchpoints: Creating Powerful Leadership Connections in the Smallest of Moments. He is a featured blogger on leadership issues at Harvard Business Review online and also writes about leadership on the Conant Leadership website at conantleadership.com. Conant is dedicated to disseminating quality leadership information as well as sparking robust digital leadership conversations on Twitter and Facebook.
Books

TouchPoints