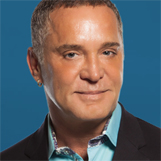 Dov Baron
Corporate Culture Momentum Strategist & Expert on Authentic Leadership
X
Program Descriptions
FIERCELY LOYAL EMPLOYEES
The world has changed, and so has everything we know about becoming—and remaining—an effective leader when it comes to retaining employees – especially Millennials. Successful Leadership today requires not just loyalty but FIERCE loyalty. We are in the biggest workforce demographic change of all time which means that in the immediate future, corporate winners will be decided by the Millennial generation. Those who fail to attract and retain Millennial talent will lose. It's as simple as that. Loyalty has become the single most essential ingredient in every successful organization especially with the average cost of turnover to an organization is between 1.5 – 2X the annual salary of that employee. Therefore, the question becomes: How do you develop the kind of leadership and culture that will have your people become Fiercely loyal? In this keynote Dov shares how to develop Fiercely Loyal Employees by focusing on:


What Creates Loyalty today?
The Characteristics of a Notable Leader
Creating a culture the generates fierce loyalty
Why Purpose Matters More Than Profit in creating a stronger bottom line
The 4 C's: Cooperation, Collaboration, Contribution, Community.
The Power of Story Telling

FIERCELY LOYAL CUSTOMERS
Keeping customers loyal has become one of the biggest challenge organizations face today because the values of your customers have changed. Today's customers, especially Millennials (now 35 at their eldest) want to look good, feel good and do good. They want to do business with transparent organizations that are purpose driven. Therefore, what keeps your customers loyal must be focused around these values. So how do you create a deep connection with your customers and have them become Fiercely Loyal to your organization? In this keynote, Dov shares how to develop Fiercely Loyal Customers by focusing on:


Your organizations Story and how to share it
Applying the Values to create a Fiercely Loyal base
Developing Authentic or Full Monty leadership to attract a Fiercely loyal Customer Base
The new and effective ways to market and reach your customer today
Attachment, Meaning and Story
Develop an authentically focused Community

Full Monty (Authentic) Leadership
Build leaders who can lead themselves, their teams, and whole organizations effectively.

We all know the Hans Christian Anderson story of "The Emperor's New Clothes." As you may remember, in the story the emperor has been duped, more by his own inflated sense of self than by the tailors of the clothes he thought he was wearing. The result was that the emperor actually had no new clothes, (no clothes at all, in fact) something that is only revealed by an authentic little boy who tells the truth others fear to speak.

Despite the imagery that comes to mind, Full Monty leadership is Not about removing clothing, but rather removing the masks of who we appear to be and revealing who we really are to ourselves and to our people. This in turn begins to Develop a Culture of Fierce Loyalty.

The challenge with leadership in its present form is that when you remove the clothes (the masks of titles and accolades) more often than not, it's not just the garments that are missing; it's the person. In other words: There Is No Emperor!

Full Monty Leadership is about revealing the true emperor, the authentic leader that is you! You will discover that by doing so your team becomes Fiercely Loyal to you and your organization.

Building a Momentum Culture
Build a culture that has your people deeply emotionally engaged with your mission, vision and purpose.

Just as a snowball rolling down a mountain can become an avalanche, in a momentum culture when "key" people (Your Corporate Cultural Momentum Connoisseurs) begin moving in a certain direction, everyone else is pulled in that direction, which, in turn, causes an avalanche of passion, commitment, productivity and Fierce Loyalty.

However, in business it's not quite as simple as deciding to let the snowball of business roll down the hill.

Here's a metaphor of momentum from the best selling business book From Good to Great by Jim Collins.

Giving Up Your Identity to Discover Your Genuine Impact Potential
Imagine for a moment that you are at the height of your career and someone asks you who you are. There's a very good chance that like most people, you would have responded by telling them your name and what you do. But when you think about it; your name is not who we are. It is merely a label that was given to you at birth. Just as surely what you do is not who you are, (no matter how attached you might be to your success) particularly when it is referenced in the past.

However, when the sun goes down on our career, it's easy to think that our moment, our hour, our day in the sun has passed…It has not! There comes a time when we all must ask ourselves what is likely the most difficult question we will ever ask ourselves, "Who am I". This question is particularly challenging when who we had seen ourselves as is no longer apparent. The critical moment for many of us comes when we have to make the shift from being able to answer that question with ease to suddenly feeling that instant cold sweat of knowing that to say who we 'were' is not the truth of who we 'are'.

Having made your mark in the world and having received the accolades and recognition that goes along with doing so is a pretty wonderful achievement, and an exhilarating feeling. However, when we are no longer in that position it's easy to feel like we have somehow lost ourselves. One of the greatest challenges of being a "champion", whether in sports, business, on the screen, or anywhere else, is that when we no longer stand in the spot light, it's easy to feel like we have somehow become invisible.

How we see ourselves has a profound effect on how effective we are in the world. Make no mistake, when our identity is no longer as solid as it once was the impact can be devastating to our self esteem, self worth, our finances, and our relationships.

But here's the most important part: Discovering who you are beyond the identity of who you were is what will make you a true winner and a champion both in your own life and in the lives you touch.

Who you were may not be who you are. However, there is great leverage in your history. Your job is to leverage that history into your present time mission, purpose and commitment. Learning how to tell your story from this place will likely be the most powerful and empowering experience of your life.

In this conversation Dõv will address:


Why Identity loss can be crippling
Why your best is Not behind you but ahead of you
How to tap into the full and mostly untouched potential of who you are(beyond your past accolades)
How to take the worst thing that happened to you and make it into the springboard that will propel you too new and greater heights
Why giving up your previous identity is your golden ticket for future success
How to discover the truth of who you are and leverage it to making a greater impact and becoming a hero again

The Most Powerful Way a Leader can Inspire, Bond with and Motivate (without manipulation) is Through the Vulnerability of Honing and Sharing Their Full Monty Story!
Meet Dõv Baron
Dõv Baron is a leadership and corporate cultural strategist who has been named by Inc. magazine as one of the Top 100 Leadership Speakers. He is the host and producer of the "Full Monty Leadership" radio show and a bestselling author. This article was adapted with permission from his latest book, Fiercely Loyal: How High Performing Companies Develop and Retain Top Talent.

History:
In June 1990 while free rock climbing, Dõv Baron fell approximately 120 feet and landed on his face. The impact shattered most of the bone structure of his face, disintegrating some of his upper jaw and fracturing his lower jaw in four places. After nine reconstructive surgeries, no external evidence remains of the damage however, this experience was life changing.

Before the fall, Dõv had spent years building a reputation as a dynamic speaker and teacher in the field of personal and professional development but it wasn't until sometime after 'the fall' he began to see the beauty and elegance of what had really happened… The return to his own CORE, what he calls his 'Authentic Self'.

Today, Dõv is the bestselling author of several books including his latest:"Don't Read This…Unless You Want More Money!"

He was also the host and executive producer of the increasingly popular radio show: "Full Monty Leadership Show" Where Authentic Leaders Let it ALL hang out about Loyalty, Culture and growth. The show broadcasts out of Seattle, Chicago, Colorado and globally via the internet.

Dõv has interviewed and worked with leaders featured on: Oprah, Ellen, CNN, Fox, MSNBC, CBS, Huffington Post, Larry King, New York Times, Washington Post, Forbes, the Wall Street Journal and many other top rated media. He also has a massive social media platform with over 200,000 followers via Face book, Twitter, Linkedin, Podomatic, iTunes etc.

In addition to being an author and a radio host, Dõv is also the leading expert on Developing Authentic Leadership and he is the world's only Corporate Cultural Momentum Strategist, serving top performance individuals, corporations and organizations to generate both exponential growth and fierce loyalty.

Dõv has been sharing his wisdom and expertise privately and on international stages with professional leaders for more than 30 years.

His passion mixed with humour and 'get to the point' no BS style are contagious. Within moments you will feel a genuine connection with a man who authentically walks his talk. Dõv believes that the world needs more leaders who are Authentically committed to standing in their truth, sharing their inner genius, and empowering others to do the same.

Dõv's commitment is to take you by the hand and show you why tapping into your Authentic Self is the MOST important key to finding, developing, and retaining your top talent.
Books