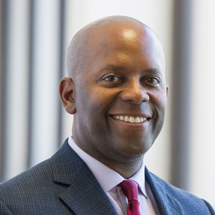 Dr. Brian H. Williams
Surgeon and Public Speaker
Why Book Dr. Brian Williams?


Dr. Williams presentations are centered on the intersection between race and medicine and healthcare resiliency, using his role and experiences from the Dallas tragedy as a backdrop.
Dr. Brian H. Williams is a first-generation college graduate who earned a degree in Aeronautical Engineering from the United States Air Force Academy. After six years of active duty military service, he switched career paths and transitioned to the University of South Florida Morsani College of Medicine.

He did his general surgery residency at Harvard Medical School/Brigham and Women's Hospital in Boston, MA and a fellowship in trauma surgery and surgical critical care at Emory University/Grady Memorial Hospital in Atlanta, GA. He now serves as an Associate Professor of Surgery at the University of Chicago, Division of Trauma and Acute Care Surgery.

Dr. Williams is well-known for his role in treating victims of the July 7, 2016, Dallas police shooting. At a press conference following the tragedy, his heartfelt comments touched thousands and, unbeknownst to him, became a viral media event.

In addition to his work as a trauma surgeon, Dr. Williams travels the country as a thought-provoking speaker sharing his unique insight on resilience, diversity, and social justice. He is also a frequent contributor to the Dallas Morning News and hosts the podcast Race, Violence & Medicine.

Dr. Williams lives in Chicago, IL with his wife and daughter.