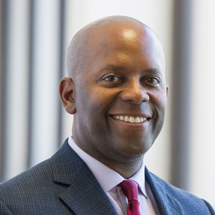 Dr. Brian H. Williams
Surgeon and Public Speaker
Why Book Dr. Brian Williams?


Dr. Williams presentations are centered on the intersection between race and medicine and healthcare resiliency, using his role and experiences from the Dallas tragedy as a backdrop.
Dr. Brian H. Williams was the presiding trauma surgeon at Parkland Hospital the night a sniper shot 12 City of Dallas police officers protecting a peaceful anti-brutality protest. The events of July 7, 2016, were transformative. Dr. Williams has since committed his time to putting action to his passion for social justice while sharing his story and insight with individuals around the country. Recognizing his many community contributions, the Mayor of Dallas appointed Dr. Williams as Chairman of the Citizen Police Review Board.

Born, in Chicopee, MA, Dr. Williams is a self-described Air Force brat that has traveled and lived around the world. He is a graduate of the United States Air Force Academy and served six years active duty as an aeronautical engineer. Answering a call to medicine, he attended medical school at the University of South Florida, Morsani College of Medicine. Dr. Williams completed his residency in general surgery at Harvard Medical School, Brigham and Women's Hospital, and his fellowship in trauma surgery and surgical critical care training at Emory University School of Medicine, Grady Memorial Hospital.

Dr. Williams is the Medical Director of the Parkland Community Health Institute (PCHI) where he leads cross-functional teams charged with delivery of innovative programs to address community health needs in Dallas County. Prior to joining PCHI, Dr. Williams was an Associate Professor of Surgery at the University of Texas Southwestern Medical Center serving as the Surgery Residency Program Director and Trauma/Emergency General Surgery Clerkship Director where he taught and mentored medical students, surgery residents, and fellows.