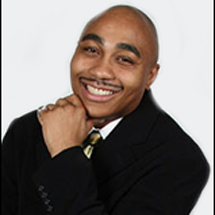 Dr. Jermaine Davis
Leadership Expert on Influencing Up, Down & Across Your Organization
X
Program Descriptions
INFLUENCING UP, DOWN, AND ACROSS YOUR ORGANIZATION
"The key to successful leadership is influence, not authority." ~ Kenneth H. Blanchard
Are you a person of influence? Can you get your point across in a meeting without appearing aggressive, arrogant, or annoying? Can you quickly assess a situation and adapt your message to minimize disagreements, derailments, and destructive conflicts?

When you speak, are people engaged or disengaged? Can you even tell? Managing up, connecting across, and reaching down to connect with people in your organization will increase team and organizational success.

Dr. Jermaine believes that 85 percent of your success in Life, School & Work is determined by your ability to get along with others. Communicating effectively, cultivating personal and professional alliances, and maintaining healthy relationships at every level of your life will determine the scope of your influence.

In this highly-requested team leader course presentation, Dr. Jermaine, a motivational speaker, shares proven communication principles and influence strategies from his best-selling book, Leading with Greatness! as well as brand new material from his upcoming book, Influencing Up, Down, and Across Your Organization. You will walk away with a new perspective on how to influence others and gain the skills necessary for making a positive difference inside and outside of your organization.

COMMUNICATE LIKE A CHAMP: PRACTICAL TIPS ON DEALING WITH DIFFICULT PEOPLE
At some point, in your life and career, you will have to collaborate and work with someone you dislike. Odds are it's already happened! Sometimes these individuals are difficult because they are know-it-alls and either passive, aggressive, or passive-aggressive! They are often rude, lazy, quick to blame, or cynical. Please, don't allow your irritation with them to interfere with your quest to thrive and succeed in Life, School & Work.

Communication happens, intentionally and unintentionally. Become masterful at accomplishing your communication goals when interacting with others, both verbally and nonverbally. In his highly engaging and entertaining presentation, "Communicate Like a Champ," Dr. Jermaine will teach audience members how to:


Identify and prevent the three root causes of conflict and disagreements
Effectively manage passive, aggressive, and passive-aggressive communicators
Adapt and adjust your communication style using the Size It Up Communications Approach
Effectively hold yourself and others accountable using the Accountability Matrix
Minimize communication misunderstandings using the 55%, 38%, and 7% Communication Rule
Say "No" without coming off as rude, insensitive, or unemotional
Regulate your emotions when you feel attacked using emotional intelligences

This team leader course presentation is based on Dr. Jermaine's best-selling book, Leading with Greatness! Moving from Chaos and Conflict to Communication and Cooperation. Award-winning Communication and Leadership Professor, Dr. Jermaine, an african american motivational speaker and keynote speaker, will help you deal with difficult people by sharing the success secrets of competent communicators. Attendees will be able to immediately incorporate these practical ideas within their private, personal, and professional lives. This is one of Dr. Jermaine's most popular and highly requested presentations!
Why Book Dr. Jermaine Davis?
Because you will NOT BE BORED! Dr. Jermaine's keynotes and workshops are engaging, entertaining, and thought-provoking from start to finish. Get ready to have some PROFESSIONAL FUN!


Dr. Jermaine is a down-to-earth, award-winning Professor of Communication Studies and Organizational Leadership that teaches individual contributors and leaders how to effectively – Influence Up, Down & Across their Organization.


Dr. Jermaine is PASSIONATE about HELPING individuals RECHARGE their personal and professional batteries so they can THRIVE and SUCCEED.
Before receiving the prestigious College Instructor of the Year Award, Dr. Jermaine Davis worked in corporate America for IBM, Keebler Cookies, and Frito-Lay in the areas of sales, management, and marketing. Now, he's an award-winning Professor of Communication Studies at Century College and Organizational Leadership at St. Catherine University in Minnesota. Dr. Jermaine has authored10 books including:
Get Up Off Your Butt & Do It NOW!
Leading with Greatness!
The Art of Communicating Effectively with Diverse People!
The Quote Journal Series: 52 Quotes to Help You Succeed

Dr. Jermaine was raised in a drug- and gang- infested area on the West-Side of Chicago in a single-parent home. After the tragic loss of six family members to violent deaths, he enrolled in college to change the direction of his life. Dr. Jermaine holds a BA and an MA in Speech Communications, and a Doctorate in Organizational Leadership. He is currently working on the release of his debut documentary and companion books:


Influencing Up, Down & Across Your Organization
Breaking The Cycle: Overcoming Destructive Beliefs & Behaviors

Dr. Jermaine specializes in helping leaders, teams, and organizations develop healthy work climates so EVERYONE can thrive and succeed. His presentations are interactive, highly engaging, and participant-centered. Dr. Jermaine's most requested programs teaches leaders, teams, and organizations how to:


Lead the Way of Positive Change
Beat Burnout Before It Brutally Beats You
Influence Up, Down & Across Your Organization
Cultivate a Work Culture of Respect and Inclusion
Thrive with Communication, Cooperation & Collaboration

Dr. Jermaine is an international speaker and leadership coach that engages audiences with his unique style of speaking known as – EDUTAINMENT – a fun combination of education and entertainment. Prestigious organizations like 3M, Best Buy, Caterpillar, Medtronic, Wells Fargo, Sam's Club, Boston Scientific, Blue Cross Blue Shield, Prudential, West Point Military Academy, HealthPartners, John Deere, and Enterprise Rent-A-Car regularly seek out Dr. Jermaine's expertise in the areas of leadership influence, employee engagement, managing change, and thriving as a team.

Most importantly, Dr. Jermaine still loves to eat his grandmother's homemade Macaroni and Cheese AND all-you-can-eat crab legs.
Books