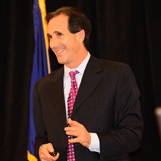 Dr. Robert Kleinwaks
Maximize Health And Performance Naturally
X
Program Descriptions
The Presentation
Dr. Kleinwaks' lecture is highly interactive with a combination of demonstrations, short videos, and power-point slides. These demonstrations are not only educational, but motivational and inspirational as well. His presentation will challenge most people's beliefs about nutrition and the power of the mind. The Eat and Think 2 Win program teaches how matching a positive mental attitude with proper nutrition maximizes peak physical and mental performance.

The information taught keeps each individual engaged while they are learning materials that are easy to understand and can be immediately implemented into daily life. Building confidence and self-esteem, improving ones energy and overall health, reaching new goals and improving mental focus are just a few of the benefits to his presentation.

The presentation normally lasts an hour and a half with time for questions and answers at the end. The lecture can be made shorter if necessary and can be custom tailored to help specific groups with specific needs or issues.
Dr. Robert Kleinwaks is an expert performance coach and has practiced sports medicine and sports nutrition for more than twenty years as a Chiropractor (Graduated New York Chiropractic College, Doctorate of Chiropractic, 1983 - Magna Cum Laude). He owned the largest health and wellness center on Long Island, N.Y. and has also completed extensive post graduate studies on nutrition and the effects of positive thinking on human behavior and peak performance.

After twenty years of practice he was forced to retire from private practice due to carpel tunnel in both hands. He took this opportunity to start learning more about one of his real passions; how to get any individual to be able to perform at their very best by changing the way they think and eat. He took a position working for one of the largest motivational speaking companies in the world. He traveled the country speaking about how changing one's thinking and eating could change one's destiny.

After almost five years with the company, Dr. Kleinwaks received the largest challenge of his life…he was diagnosed with cancer (stage 4 large cell non-Hodgkin's lymphoma). After getting the bad news, Dr. Kleinwaks spent the next two years trying to find a cure to a disease doctors said would not be curable. Through changes in his diet, removing the mercury fillings from his teeth and pulling out his root canals, Dr. Kleinwaks surprised the medical profession when the football sized tumor in his abdomen and the multiple tumors in his lungs disappeared within seven weeks of the dental procedures. Years later they have not returned.

Dr. Kleinwaks took this new lease on life and started his own company called Eat and Think 2 Win. For the past decade, Dr. Robert has been a sought-after public speaker and performance coach - both nationally and internationally. He regularly shares his expert knowledge on nutrition, positive thinking and peak performance with students, coaches, sports groups, business owners and professional leadership groups world-wide. His book, "The Sports Triad", focuses on the cutting edge principles of unleashing an individual's maximum potential by changing the way they think and eat. Though the book uses sports as its platform, the principles taught in the book can be applied to almost anyone at almost any age.