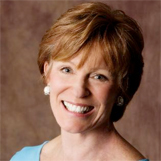 Elizabeth Somer, RD
Editor-in-Chief of Nutrition Alert!, Author, Noted Nutritionist
X
Program Descriptions
Age-Proof Your Body
You needn't take growing old laying down! You can slow, stop, and even reverse the aging process by making a few changes in what you eat, when you exercise, and how you think. New research shows you can reduce the risk for almost all of the leading age-related diseases, from heart disease and diabetes to cataracts and cancer. Your immune system can stay strong and resistant to infections and disease. The anti-aging diet can protect your mind and help you stay mentally vital with a strong memory and quick reaction times. You even will be turning heads and feeling sexy with just a few changes in what you eat and how you move. In this presentation, Elizabeth Somer, M.A.,R.D. will share the latest research on diet and aging, plus provide easy diet, fitness, and supplement guidelines that add health to your years and extend those healthy middle years into your 90s..

Eat Your Way to Happiness
Why do we have concentration lapses during certain times of the day? Can diet cure depression? Why do we crave certain foods like chocolate? Is there a dietary solution to insomnia, PMS, and stress? You will learn the answers and solutions to these questions and more as Elizabeth explains the connection between what we eat and how we feel, exposes common nutrition myths and food and mood, and offers dozens of practical tips to help you take control of your eating habits to benefit mood, mind, cravings, and emotions. Somer distills the results of 1,000s of scientific studies into easy-to-understand and practical advice on how to eat to feel better, think quicker, remember more, sleep more soundly, and have more energy. She reviews the common nutritional myths (milk doesn't help you sleep) and separates fact from fiction on supplements, fad dies, and dietary products.

Food & Mood
Don't you wish there was a happy pill that boosted your spirits when you felt out of sorts? Made you laugh when you were grumpy? Or warmed your heart just when you were ready to bite your honey's head off? Well, it's not a pill, but there is something as convenient as your refrigerator that could do the trick. How you feel has a lot to do with what you eat (or didn't eat). Certain foods can tweak brain chemistry and help you stay happy, energized, and even calm. Elizabeth Somer is the authority we have come to rely on for sound, practical nutrition advice. Her classic Food & Mood made clear the link between what we eat and how we feel, think, act, and sleep and has been the go-to book for more than a decade for adopting a diet that helps you feel your best. But a wealth of new research since then has shed light on the mood- and mind-boosting effects of the antioxidants, the omega-3s, certain supplements, and more. There are even a few super mood foods! This presentation distills the wealth of new information on how to eat and move to feel vibrant, think clearly, remember more, have more energy, sleep better, calm stress, and curb those cravings, all based on her latest book by the same name!

The Real Simple Diet: How to Eat Well in a Fast-Paced World
Nutrition information is doubling every 18 months. How do you stay up to date when information seems to flip flop daily? Besides, is it really all that important how well you eat as long as you give it your best try and take a multi to be on the safe side? Elizabeth Somer, M.A.,R.D. distills the latest research into a simple, no-fuss plan for eating well and feeling your best. She also explains why, what, how, and when to eat, supplement, and exercise in this upbeat, fun presentation.
Elizabeth Somer, M.A., is a registered dietitian who has carved a unique professional niche as one of the few, if not only, dietitians who is well-versed in nutrition research. For twenty-five years, she has kept abreast of the current research, packaging that information into easy-to-read books, magazine articles, lectures, continuing education seminars, and practical news for the media. Ms. Somer has written nine books: The 10 Habits That Mess Up a Woman's Diet (McGraw-Hill, 2006), Age-Proof Your Body (McGraw Hill, 2006), The Food & Mood Cookbook (Owl Books, 2004), The Origin Diet (Owl Books, 2002), Food & Mood (Henry Holt 1995, second edition Owl Books, 1999), Nutrition for a Healthy Pregnancy (Henry Holt, 1996, second edition Owl Books, 2002), Nutrition for Women (Henry Holt, 1993, second edition Owl Books, 2003), and The Essential Guide to Vitamins and Minerals(HarperCollins 1990, second edition 1995). Ms. Somer also co-authored The Nutrition Desk Reference (McGraw-Hill, 1996), which is in its third edition.
For the past twenty-five years Ms. Somer has served first as Editor of the Nutrition Report and now as Editor-in-Chief of Nutrition Alert!, newsletters that abstract the current nutrition research from more than 6,000 journals. She is a Contributing Editor to Shape magazine, Advisory Board Member to Healing Lifestyles, Nutrition Advisor to Prevention magazine, and has written more than 300 articles in numerous national magazines, including American Health, Better Health and Living, Better Homes & Gardens, Cooking Light, Cosmopolitan, Eating Well, Fast and Healthy, Fit Pregnancy, First for Women, Fitness, Food & Wine, Healthy Living, Living Fit, Mature Outlook, McCalls, Men's Fitness, Muscle and Fitness, Prevention, Real Simple, Redbook, Self, Sesame Street Parents Magazine, Shape, Walking Magazine, Women's Sports and Fitness, and Working Woman. Her regular column appears in MediZine magazine. Ms. Somer has won numerous awards and scholarships, including the National Mature Media Merit Award for her article titled "Beat the Clock," which appeared in Living Fit magazine.
Ms. Somer received her bachelor's degree in Foods and Nutrition from Oregon State University and her master's degree in Community Health from Ohio State University. She has completed doctoral work at the University of Oregon, and has taught college-level courses at Ohio State, Western Oregon University, Linfield College in Oregon, and University of California at San Diego's Extension Program. She currently teaches nutrition at Willamette University in Salem, OR.
Ms. Somer lives in the countryside overlooking Mt. Hood and the Cascade Mountains outside Salem, Oregon. She has two beautiful children. In her spare time, she loves to cook, bicycle, snowshoe, hike, exercise, travel, read, and garden.
Books