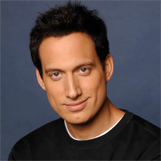 Elon Gold
Actor, Comedian, Co-Star of the FOX Hit Stacked
Traveling From
California
Why Book Elon Gold?
Gold is a comedy prodigy, quickly earning accolades an spots next to other top performers since the age of 17
He currently has his own Netflix special, guest roles on many popular television series, and more
As a Boston University student at the tender age of 19, the Boston Herald hailed Elon Gold as "a comedy star on the rise." Five years later, Comedy Central selected him and three others (including Dave Chappelle) to be profiled in its "Pipeline" series of future comedy stars. Today, his star continues to rise as Gold has established himself as one of the top comedians in the country.

Growing up in the Bronx, Gold has emerged into a naturally gifted stand-up comic, sketch performer, actor and writer. At 17, Gold began his stand-up career and, one year later, Gold's impression-infused routine led to his first television appearance on MTV's "Half-Hour Comedy Hour," where he appeared alongside Chris Rock, Ray Romano and Drew Carey. By the time he was an undergraduate student at Boston University - where he graduated cum laude with a B.A. in Economics - Gold was splitting his time between his studies and touring comedy clubs and colleges across North America.

In 1993, Gold was invited to perform at the world-renowned Just For Laughs Montreal International Comedy Festival, where he appeared in a cable special hosted by the late John Candy. This Montreal appearance, along with his work on the MTV sketch series "Comikaze," led to Gold's first television series on the sketch show "She TV" which was hailed by Time Magazine as one of the year's Top Ten Shows.

Gold's success in the comedy world provided the perfect segue to his career as an actor. His credits include a cameo in the Steve Martin movie, "Cheaper by the Dozen," playing Mary Richards's boss ("the new Lou Grant") on the highly rated "Mary & Rhoda" movie on ABC, series regular roles on the comedy series "The In-Laws," "You're the One," Dana Carvey's sketch comedy series (which he also wrote for), and host of the CableAce Award-winning series "Inside Eddie Johnson." Gold co-starred in the highly-rated telefilm "Mary and Rhoda." Gold's career has taken a couple of dramatic turns with performances in the independent features "Restaurant" and "Origin of the Species" and a guest-starring role on "Las Vegas."

In 2000, Gold combined his stand-up, writing and acting skills to develop and star in the Columbia TriStar pilot "Good as Gold." Along with his co-creator and co-writer Ira Ungerleider ("Friends"), Gold assembled an all-star cast including Mary Tyler Moore as his mom, Elliot Gould as his father and Jonathan Silverman as his brother. Although the pilot did not become a network series, Gold learned the value of mining his real life for comedic inspiration. With that lesson learned, Gold took another one of his life experiences—he and his wife living with his in-laws—and pitched a series idea that soon found a home at Paramount and NBC. With "Frasier" star Kelsey Grammer executive producing, "Frasier" executive producer Mark Reisman writing and executive producing, acclaimed feature film star Dennis Farina starring as his father-in-law, and multiple Emmy Award-winning actress Jean Smart starring as his mother-in-law, once again Gold has mined comedy gold from his miserable existence.
Most recently Gold has made ten appearances on 'The Tonight Show' and had a recent recurring role on the hit show, 'Bones'. Elon was a writer/performer on ABC's 'The Dana Carvey Show' and has guest starred on 'Frasier', 'The Mentalist', 'Chappelle's Show' among others. He has a new one hour stand up special out on Netflix. Gold is currently performing at corporate events and comedy clubs across the country doing what he does best -- makin' em laugh!