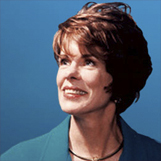 Emory Austin
Captivating Speaker, Storyteller With Practical Insights
Traveling From
South Carolina
X
Program Descriptions
From She to Shining She
Breast cancer was the greatest teacher I have ever had. It, or some other life-threatening diagnosis, can be an impelling force toward uniquely enriching directions for those among us who have been struck by a hit to the solar plexus that knocks all the wind out of you. Or me.

An Ounce Of Different
Here it is: the success-seeker's definitive edge. Your own unique insights and the ways you activate them are your master keys to success. You'll learn to build on these strengths and construct more purposeful leadership.

Yours Is The Vision
Learn how to compete smarter, lead smarter, work smarter . . . all while keeping up, getting ahead, keeping sanity intact, and increasing your value for a vital future!

Eat Crackers In Bed... And Sleep On The Crumbs.
Warning: Getting too comfortable with today's success is a death sentence. The comfort zone too soon becomes the deadly zone. Emory presents how to elevate your flight pattern and set higher goals, while moving beyond where you are today to meet the future's unpredictable demands.

Is Your Bubble In The Middle?
Attendees will gain a new perspective on making good decisions and getting a bigger bite out of life. And . . . they'll be smiling for months to come!

My Map Must Be Upside Down
Rethinking our route guidance system is often overlooked as we trot about layering more "stuff" on top of what is already there - forgetting to consider our own mileposts, speed limits and passing zones. Emory approaches this intriguing life-mapping exercise with strategies, humor, and attitude!

The Grass is Greener Where the Grass is Watered
Every new day brings incredibly complex name recognition and selling challenges. Meet them head-on with strategies for delivering punch and impact to your sales and customer service roles. Master Emory's creative mindset for outserving, outselling, and outbranding your competition.

Never Take Your Eye Off Your Boss
Today's hot topic - How to propel your clients and customers into absolute fidelity to you and your brand! Outserve your competition by weaving closer ties with those who vote with their dollars. Build trust, loyalty, effectiveness, appeal, and profit.

Close Encounters of the Crucial Kind
Those who teach and lead our youth have the power to touch the future in ways that no one else can. What an important honor! Join Emory for this inspiring celebration of workable and strength-building possibilities.


Emory Austin is a Phi Beta Kappa graduate of Wake Forest University with a major in writing and psychology. She is fascinated by how people think, by why they do what they do, neglect what they neglect; by the patterns they develop in the process, and by all the individual ways they deal with opportunities for leadership, professional and personal change, their customer base, and relationships of all types!

She is also an internationally sought-after expert and speaker with "a brand new way to deliver a message." Her extraordinary gifts as a storyteller/strategist open a path for connecting life lessons to practical insights. Emory's presentations are unforgettable, growth-focused, and delightfully humorous. Clients line up to hear and to use her well-defined approaches to leadership, change, balance, customer service and teamwork. It's all about subjective, human attitudes and action choices in an objective electronic world, and Emory builds a strong bridge between the two that is unifying and exciting.

Emory's busy calendar is filled with national and international clients in almost every industry – healthcare, women's organizations, education, banking and finance, chambers of commerce, insurance, business and social groups, charities, chemicals, food service, computers, government, telecommunications, manufacturing, pharmaceuticals, agriculture, churches, publishing, real estate, direct sales, retail, construction, and utilities – and…she is invited back over and over again.

She is recognized as one of only a handful of great women keynoters, and was chosen in 1999 as the recipient of the National Speakers Association's highest honor, the Council of Peers Award for Excellence – Speaker Hall of Fame – for her expertise, style, professionalism, reputation, and overwhelming audience response. She was one of only five professional speakers selected for this distinguished commendation in 1999, and the sole woman honoree!

Emory's focus is on creating the professional culture that can produce the changing solutions required for success in today's chameleon-like climate. Our eculture world is hungry for solutions that build balance between cold technology and warmer people skills. Emory's experience with leading international minds is a driving force in her acute analysis of ways to make this happen.

Emory was the three-year host of an issue-based television talk show, and has been featured in best-selling Simon & Schuster anthologies by request of the publisher.

Here's the real bonus: Emory will connect with your audience…and their hearts. Not only will they love her as a speaker, they'll wish they had her as a best friend!