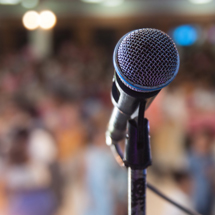 Eric Shanteau
US Olympic Swimmer and Cancer Survivor
X
Program Descriptions
Olympic Dream & Spirit
Overcoming Adversity
Follow Your Dream
Surviving Cancer
During the summer of 2008, Eric Shanteau achieved his lifelong dream of qualifying for the U.S. Olympic Swim Team. However, on June 19, 2008, just one week before the trials, he was diagnosed with testicular cancer. Eric was able to delay surgery to compete in the Olympic Games where he swam a personal best time in the 200-meter breaststroke.

Born in Georgia in 1983 and was raised in Lilburn. As an age group swimmer, he broke numerous state records and recorded countless top 16 times. Eric also swam competitively at Parkview High School where he became a national swimming champion while maintaining a perfect 4.0 GPA. He is the first male in the history of USA Swimming Scholastic All-American program to maintain a perfect grade point average.

After high school he went on to swim collegiately at Auburn University, where he was an 11-time All American. While there, he completed his four years of eligibility undefeated in team competitions. Also during that time, his team compiled 32 duel meet victories, 4 SEC titles, and 4 NCAA titles. Eric was a co-captain his senior year as his class finished with a perfect record. Eric graduated with a degree in Entrepreneurship and Family Business and was named to the SEC Academic Honor Roll and an CSCAA Academic All-American. Upon graduating Eric moved to Austin, Texas where he trains under the famed Eddie Reese and Kris Kubik.

At the 2004 World University Games, Shanteau won Gold medals in the 200-meter IM and the 400-meter IM which made him the first American to sweep both events. Eric holds various records, including the 400-meter medley-relay which he set at the Fina World Championships Roma in Rome, Italy. He also holds the American record in the 200-meter breaststroke which he set at the Conoco Phillips USA Swimming National Championships.

During the summer of 2008, Eric received some life changing news. He was diagnosed with testicular cancer just one week before the Olympic trials, but he still competed in the Olympi Trials where he qualified for the 2008 Olympics in the 200-meter breaststroke. After careful consideration, Eric decided to delay treatment and stay on the team in order to fulfill his dream of competing in the Olympics. Despite everything going on outside of the pool, Eric swam a lifetime best at the Olympics. After returning home, he underwent surgery and was officially declared cancer free on September 15, 2008.

Now in remission, Eric has become an avid spokesperson for cancer awareness. The popular swimmer spends his extra time working with the Lance Armstrong Foundation where he is an advocate for cancer awareness, specifically focusing on young adults. He also travels the country giving motivational speeches to swimmers, students, business professionals, and fundraisers.

Through it all, the one thing that was not difficult for Shanteau was his decision to go public with his illness. The tremendous amount of support he received from his friends, family, complete strangers, and other cancer survivors gave Shanteau the courage he needed to fight both for his health and for his Olympic dream.

His future aspirations include opening a boat shop, and his hobbies outside of the pool include wakeboarding and mountain biking. He has also an older brother, Ryan, who swam for Georgia Tech.

As an Olympic athlete, cancer survivor, role model, and spokesperson for testicular cancer, Eric has fought hard to beat the odds. He remains an inspiration to audiences the world over.