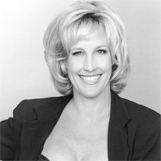 Erin Brockovich
Environmental Activist & Hit Movie Subject
Traveling From
California
X
Program Descriptions
RAM: Realization, Assessment, and Motivation
Erin lives according to the guidelines she likes to call RAM. The R is for Realization. She believes you have to realize who YOU are, good and bad, before you can begin to know where you are going. A is for Assessment. You have to take stock in what you have. Look at your skills, weakness, strengths and applying traits where they need to be and let go of the bad ones. M is for Motivation. It's hard to stay motivated in the world today and motivation is the steam that keeps us going. Motivation is about taking time for self renewal. We all need our batteries charged yet never take the time to do it and then just burn out. Erin's ability to continue the good work she has done on behalf of other people is due to her belief in the above and she shares her story and tools for success with audiences nationwide.

The Power of One
Erin Brockovich is one of those rare individuals whose own true story has become part of our public consciousness. Seen by millions as a symbol of American justice and the importance of fighting for the truth, Brockovich continues to speak out on behalf of those who can't. After uncovering a 30-year long history of poisoning the groundwater in Hinkley, CA by PG&E, Brockovich dug in and didn't give up until she had exposed the truth—and had gotten justice for its victims. She truly is proof that one person can make a difference, and she believes that everyone—in their own way—can do the same.

Four Steps to Success
Erin has achieved much to be admired. But it didn't just happen. Hear from Erin her Four Steps to Success which include... LOGIC: Don't see Logic as only intellect, but use your common sense and listen to your instincts. After all, they are the spouse to logic. LEVERAGE: Get Your Leverage ON! Don't let this word scare you. Leverage can help strengthen your voice and strengthen you as an individual so that you can be heard! Remember, in mathematics, leverage means 1+1=2. But in principle, leverage means 1+1=1000! LOYALTY: This is stick-to-it-iveness and is something you must have to see your way to the end. AND: The burning question we all have..."Why Do I Do This?" Well, it's LOVE, ACTUALLY!
Why Book Erin Brockovich?


Erin's story as a legal researcher whose dogged persistence was the force behind the largest medical settlement lawsuit in history is a statement to the power of one person in pursuit of the truth.
She has become the champion of countless people around the world through her environmental activism worldwide.
She is an inspiration and a true hero who reminds us of the power of the human spirit.
Erin Brockovich grew up in Lawrence, Kansas, the youngest child of an industrial engineer and a journalist. After graduating from Lawrence High School she attended Kansas State University for one year, then moved to Dallas, Texas, where she earned her Associate in Applied Arts degree at Wades Business College.
After college, Mrs. Brockovich moved to Southern California where she worked for K-Mart as a management trainee before taking a job at Fluor Engineers and Constructors to work and study to become an electrical design engineer. It was at this time when she decided to explore the world of beauty pageants. Although she won the title of Miss Pacific Coast, she quit after a year and married a restaurant manager.
Mrs. Brockovich and her husband moved back to Kansas where her two older children, Matthew and Katie, were born. In 1987, they settled in Reno, Nevada, before she divorced her first husband. As a mother of two children and newly single she got a job as a secretary at a local brokerage, where she met a stockbroker. They married in 1989 and Mrs. Brockovich gave birth to her youngest daughter, Elizabeth. In 1990, the marriage ended in divorce. She was again a single mother, this time with three children to feed and clothe.
After being seriously injured in a traffic accident in Reno, Erin and her children moved back to Southern California where she hired Jim Vititoe of Masry & Vititoe to handle her auto accident case in 1991. Not long after her case was resolved, she was hired to work at the law firm as a file clerk. While organizing papers in a pro bono real estate case, Erin found medical records in the file that caught her eye. After getting permission from one of the firm's principals, Ed Masry, she began to research the matter.
Erin's investigation eventually established that the health of countless people who lived in and around Hinkley, California, in the 1960's, 70's and 80's had been severely compromised by exposure to toxic Chromium 6. The Chromium 6 had leaked into the groundwater from the nearby Pacific Gas and Electric Company's Compressor Station. In 1996, as a result of the largest direct action lawsuit of its kind, spearheaded by Erin and Ed Masry, the giant utility paid the largest toxic tort injury settlement in U.S. history: $333 million in damages to more than 600 Hinkley residents.
Erin's investigating inspired the hit movie Erin Brockovich, which highlighted her legal triumph and personal challenges. Released in March 2000 by Universal Studios, it starred Julia Roberts as Erin Brockovich. The movie's great success led to numerous awards and nominations, including five Academy Award nominations and one win. Steven Soderbergh was nominated for an Oscar for 'Best Director,' and Julia Roberts won an Oscar, a Golden Globe, and a BAFTA Award for 'Best Actress' for her portrayal of Erin.
From the exposure of the movie, Erin became a reluctant public figure. Over time, Erin realized she could use her notoriety to spread positive messages of personal empowerment and to encourage people to stand up and make a difference. This led to her first television project, an ABC special entitled Challenge America with Erin Brockovich. It taped in New York and aired in December 2001. This feel good program is best described as Extreme Makeover: Home Edition on steroids, but preceded that successful series. Erin set out to motivate and organize hundreds of volunteers and donated resources to help rebuild a dilapidated park in downtown Manhattan a few months following 9/11.
She then hosted the Lifetime series Final Justice. This series recreated incredible stories of actual women, their perilous situations and how they overcame adversity. Erin followed that up with her book entitled Take It from Me: Life's a Struggle, But You Can Win.
Presently, she travels the world doing personal appearances spreading motivational messages, telling her story and telling of her personal life lessons.
As President of the consulting firm Brockovich Research & Consulting, Erin is involved in numerous major environmental cases.
Erin has come a long way from file clerk to inspired environmental activist to motivational speaker to television host and producer.