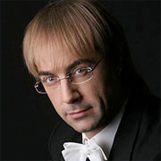 Fabio Massimo Mastrangelo
Orchestra Conductor
Anyone can be a potential classical music concert-goer. You only need a pair of ears and a heart. If you have these two elements, you are likely to be touched by the music and at that point, half the game is won." -- Fabio Mastrangelo, conductor

Fabio Massimo Mastrangelo was born on November 27, 1965 in Bari, Italy, where he began piano studies with his father at the age of five and earned his first Piano Diploma from the "Niccolò Piccinni" Conservatory, under Pierluigi Camicia. During the course of his studies, he was awarded several prizes in national piano competitions including First Prize in Osimo ('80) and Rome ('86) and he attended prestigious masterclasses under Aldo Ciccolini, Paul Badura-Skoda and Seymour Lipkin.

Later, after completing his studies with Maria Tipo at the Conservatory of Geneva, he also earned the Piano Performer Diploma from the Royal Academy of Music in London, England. In the 1986-87 season, he was invited to hold the position of Maestro Collaboratore of the "Ente Lirico Teatro Petruzzelli" in Bari. This experience, which allowed him to work side by side with conductors such as Donato Renzetti and Evelino Pidò as well as singers of the caliber of Katia Ricciarelli and Piero Cappuccilli, inspired him to pursue conducting studies. During the following three years, he attended the classes of Gilberto Serembe at the Academy of Music of Pescara. Mr. Mastrangelo also studied with Leonard Bernstein both in Vienna and at the Academy of Santa Cecilia in Rome, with Karl Österreicher in Vienna, and later with Gustav Meier both at Ann Harbor and in several master classes.

In 1990, he was granted a two-year scholarship to continue his conducting studies at the Faculty of Music, University of Toronto, under Michel Tabachnik, Pierre Hetù, and Richard Bradshaw, graduating in 1992. Following the completion of his studies, Mr. Mastrangelo was invited to serve one season as the Assistant Conductor for the University of Toronto Symphony Orchestra. In 1996, joined by several members of the Toronto Symphony Orchestra, Fabio Mastrangelo founded the chamber orchestra Virtuosi di Toronto, of which he is currently Music Director. With this orchestra, he has enjoyed the privilege of collaborating with such distinguished artists as Seymour Lipkin, Angela Hewitt and Shlomo Mintz as well as being featured in national broadcasts by Canada's CBC-Radio 2. In addition, Mr. Mastrangelo has spent nine years as Music Director of the Hart House Chamber Strings at the University of Toronto.

Since becoming an assistant to Maestro Boris Brott in 1992, he has been a regular guest of the Boris Brott Music Festivals in Hamilton. As a guest artist, he has conducted the Kitchener-Waterloo Symphony, the Windsor Symphony, the National Arts Centre Orchestra (Ottawa), the National Academy Orchestra (Hamilton), the Manitoba Chamber Orchestra (tour of Italy in 1999), the Winnipeg Symphony Orchestra, as well as the Szeged Symphony Orchestra (Hungary), the Orchestra Sinfonica della Provincia di Bari, the Orchestra della Magna Grecia di Taranto and the Filarmonica di Roma (Italy), the St. Petersburg State Symphony Orchestra "Klassika" (Russia) and the St. Petersburg State Academic Symphony Orchestra.

In February 2001, he made his debut with the highly prestigious St. Petersburg Philharmonic Orchestra, which he returned to conduct twice in May and June of the same year. Immediately following, he led the National Symphony Orchestra of Ukraine in the recording of the orchestral works of Elisabetta Brusa for two compact discs recently released on the Naxos label. In July 2001, he conducted the Orchestra of the City of Pärnu for the "2001 David Oistrakh Music Festival" in Pärnu, Estonia while also participating in the conducting masterclass of Maestro Neeme Järvi and of Maestro Jorma Panula.

Mr. Mastrangelo is also very active as a pianist. Between 1994 and 2000, he performed a cycle of Mozart Piano Concertos with the Hart House Chamber Strings, conducting from the keyboard. He performs frequently throughout his native Italy with a variety of esteemed colleagues. Since August 2001, he serves as Artistic Director of the newly created festival Etoiles du Chateau de Chailly (Chailly-sur-Armançon, France) where, joined by various colleagues, he performs as a chamber recitalist.

Having recently formed a duo with Russian cellist Sergei Slovachevsky, in October 2001 they made their recital debut in Japan (Tokyo and Chiba), where they returned in March 2002 (Casals Hall) and launched a CD comprising "Traditional Japanese Melodies" recorded for the Ongaku-no-tomu label. Mr. Mastrangelo and Mr. Slovachevsky have also performed several recitals in Russia (including their recital debut in the Large Hall of the "Shostakovich" Philhamonic in St. Petersburg), Canada, and France. In October 2003, they will play their debut recital at the San Francisco's MOMA. Recently, Mr. Mastrangelo enjoyed a successful return on the operatic scene serving as Assistant Conductor for the Teatro Argentina production of Mozart's Le Nozze di Figaro at the Festival Mediterraneo in Rome; for this production he also played continuo, receiving special praise for his imaginative accompaniment of recitatives.

In February 2002, Mr. Mastrangelo made his operatic debut at the Mussorgsky State Theatre of St. Petersburg, with La Traviata. His tremendous success led to an immediate invitation to conduct a staged production of Verdi's Requiem during the same season, as well as several engagements for the seasons to come. Future symphonic conducting engagements include return appearances as a guest conductor with the St. Petersburg Philharmonic, the Symphony Orchestras of Bari and Lecce (Italy), the Karelia Philharmonic, and the National Academy Orchestra of Canada, as well as debut engagements with the Kiev Philharmonic, and the Brantford Symphony Orchestra, which selected him as one of four candidates for the position of Music Director.

March 31, 2002, marked his acclaimed debut engagement with the 1st orchestra of the St. Petersburg Philharmonic (Music Director Yuri Temirkanov). In July 2002, he made his debut with the Symphony Orchestra of Kislovodsk enjoying an overwhelming response from both audience and the orchestra, which has offered him the position of Principal Guest Conductor. During 2003, he will debut in the Festival dell'Aurora (Crotone), Festival Puccini (Torre del Lago), the "Tito Schipa" Theatre in Lecce and with the Symphony Orchestra of Palermo. In January 2004 he is awaited in South America for a tour with his Virtuosi di Toronto and violinist Shlomo Mintz.

Twice finalist in the Mario Gusella International Conducting Competition - Pescara, Italy (1993 and 1995), in October 2000 he ranked fourth at the prestigious Donatella Flick Conducting Competition in London, receiving the following praise from Maestro Jan Pascal Tortelier: "you were born to be a conductor."