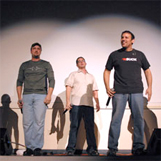 Five O'Clock Shadow
All-Vocal Rock Band
Traveling From
Massachusetts
X
Program Descriptions
All Vocal Rock Performances
An all-vocal rock band from Boston, MA, FIVE O'CLOCK SHADOW began in 1991 as a traditional a cappella group. Since then an eclectic mix of 21 members has comprised multiple generations of the quintet. Over the years FIVE O'CLOCK SHADOW released 4 cassettes (back when people actually bought cassettes) and 5 CDs, and gradually morphed into a rock band. But they still leave the instruments off the stage, because they're a vocal group at the core.

Five O'Clock Shadow is leading a growing pack of underground talent that's altering the face of contemporary vocal music. Taking advantage of technology previously used only by guitar and bass players, these five guys with turbo pipes are convincing even the most skeptical, die-hard rockers that music without instruments can still rock!

Five O'Clock Shadow's sound is pure alchemy. You'll think you hear electric guitars, keyboards, electric bass and drums... but the only instruments in use are the band's widely dynamic voices - the band members are the instruments. One of them simultaneously performs vocal bass and drums with his mouth. And they do it all live, attracting thousands of fans and curious concertgoers a year.

With members hailing from prominent music schools, including Berklee College of Music, Five O'Clock Shadow is a strong advocate for music education. Through a touring schedule that has reached nearly 200 shows a year, FOCS presents their "Vocal Challenge" program to schools and colleges nationwide, presenting masterclasses and clinics that show young people exactly what is possible for the human voice.

Five O'Clock Shadow (also known as FOCS) includes Dan Lennon (tenor), Mike Barnicle (tenor), Oren Malka (tenor), Paul Pampinella (baritone) and David "Stack" Stackhouse (mouth drums and vocal bass...or "beatbass").

The band tours nationwide, and has appeared at prestigious venues. FIVE O'CLOCK SHADOW has toured extensively at home and abroad, including 3 tours of Japan. Numerous TV appearances include VH-1's "//break.through/", ABC Monday Night Football, FOX News, WB's Morning Show, A&E, ESPN, PBS, and many more. Five O'Clock Shadow also has a long list of distinguished clients like Panasonic, Clear Channel Entertainment, Mohegan Sun, and The New England Patriots. And through their Vocal Challenge program FIVE O'CLOCK SHADOW has presented workshops and concerts to thousands of music students from coast to coast.