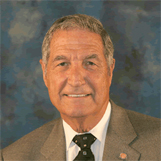 Gene Stallings
Legendary Football Coach
X
Program Descriptions
Keynotes on family relations and leadership topics
Why Book Gene Stallings?


He is a former NFL and NCAA champion whose coaching legacy has impacted thousands of athletes and still impacts those who hear him speak today.
Aside from football, he is an inspiration and a hero to many as a philanthropist and highly-awarded supporter of special needs individuals.
He is an inductee of the College Football Hall of Fame.
One of legendary coach Paul "Bear" Bryant's favorite coaching sons, Gene Stallings is one of the best coaches in football history.

Stallings spent a total of 14 years as a college head coach with an overall collegiate record of 97-61-2. Twenty of his former players have gone on to play in the National Football League.

He began at the University Alabama as an assistant coach in 1958. In 1965, he accepted a head coach position at his alma mater, Texas A&M.

In 1972, Gene Stallings took his career to the professional ranks when he joined Tom Landry at the Dallas Cowboys. And in 1986, Stallings made his NFL head coaching debut with the Saint Louis Cardinals.

Stallings returned to college coaching and was named Alabama's 22nd head football coach on Jan. 11, 1990. In seven years, Stallings directed the Crimson Tide to one National Championship 1992, one SEC Championship, four SEC Western Division titles and six post-season bowl appearances. His on-the-field coaching record stands as 70-16-1 .810, a winning percentage fourth in Alabama history. At the conclusion of the 1996 season, Coach Gene Stallings announced his retirement from the University of Alabama.

His book, Another Season, describes the love he has for his son who was born with Downs Syndrome.

Stallings has received several humanitarian awards and was selected as 1992 National Coach of the Year. He speaks on family relations and leadership topics.
Books

Another Season