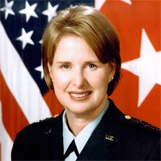 General Claudia Kennedy
U.S. Army's First Female Three-Star General
Traveling From
District of Columbia
Why Book General Claudia Kennedy ?


She is the first and only woman to ever receive the rank of three-star general in the United States Army.
General Kennedy has held a variety of command and staff positions throughout her career that exemplify leadership and achievement.
Claudia Kennedy is the U.S. Army's first female three-star general. She is also the Army's deputy chief of staff for intelligence.

Kennedy graduated from Southwestern College-now Rhodes College-in Memphis, Tennessee and was commissioned a second lieutenant in 1969 through the Women's Army Corps. She served as deputy commander of the U.S. Army Intelligence Center and assistant commandant of the U.S. Army Intelligence School, both in Fort Huachuca, Arizona. Kennedy was also director for intelligence of the U.S. Forces Command in Fort McPherson, Georgia.

Her army service has taken her to Germany, Texas, and Hawaii, where she held several command and staff positions. These include stints as commander of the 3rd Operations Battalion at the U.S. Army Field Station in Augsburg, Germany, commander at the San Antonio Recruiting Battalion, and commander of the 703rd Military Intelligence Brigade in Kunia, Hawaii. In July 1995, Kennedy was appointed the Army's assistant deputy chief of staff for intelligence, a position she held until her 1997 promotion to deputy chief of staff.

Kennedy has received numerous honors and awards during her military career including four Legions of Merit, which are awarded for "exceptionally meritorious conduct in the performances of outstanding services and achievements." She has also received four Army Commendation Medals, the Defense Meritorious Service Medal, four Army Meritorious Service Medals, and the Army Staff Identification Badge.