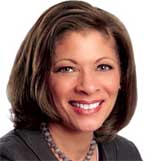 Ginny Clarke
Talent Optimization Consultant
X
Program Descriptions
Career Mapping Overview
Personal Branding
Relationship Building and Networking
Talent, Leadership and Culture: The People Side of Business Success
Career Mapping as Leadership Tool
Talent Optimization – The Secret Weapon
Picking and Growing Winners
Self-governance in a Principals-based Organization
Cultural Transformation: Change and Choice
Ginny Clarke is an expert in talent acquisition (with a specialization in diversity recruiting), retention and leadership development. She is the founder of Talent Optimization Partners, LLC ("TOP"), a talent management solutions firm. Ginny is also the author of "Career Mapping: Charting Your Course in the New World of Work." She provides thought leadership and effective strategies for organizations seeking to hire and optimally leverage a global workforce.

Ginny formed TOP in 2009, but suspended operations in June 2013 to join Knightsbridge, a Canadian human capital solutions firm, as Senior Partner for Executive Search in the U.S. She led senior level searches and important diversity pipeline projects with such clients as GE and Cisco. Knightsbridge was acquired by Lee Hecht Harrison in May 2015 and Ginny departed December 2015 to re-launch TOP.

Prior to forming her own firm in 2009, Ginny was a partner at Spencer Stuart, the global executive search firm. She worked in the firm's Financial Services and Financial Officer Practices. For nearly twelve years, she successfully recruited professionals in a variety of senior-level executive and board positions. She also co-founded and led Spencer Stuart's Diversity Practice for 10 years. During her leadership of the Diversity Practice, Ginny worked with global clients to customize diversity recruitment and retention strategies. She also oversaw the firm's efforts to provide clients with diverse slates of candidates by embedding diversity and inclusion into the firm's culture and infrastructure.

Ginny started her career in banking at First National Bank of Chicago (now Chase). After a short stint, she spent the next 10 years in the institutional real estate business with Jones Lang LaSalle and Prudential Real Estate Investors. Her responsibilities included asset management, portfolio management, capital raising and client servicing.

She earned her BA in French and Linguistics from the University of California at Davis, and her MBA from Northwestern University's Kellogg School. She is the Immediate Past Chair of the Chicago Sinfonietta, the country's most diverse orchestra, and a member of the Economic Club of Chicago. She is the mother of a college-age son and lives in downtown Chicago.
Books

Career Mapping