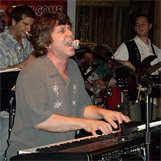 Glass Houses Tribute Band
Ultimate Tribute to the Music of Billy Joel
Featuring "piano man" Henry Haid from Broadway's Tony award-winning hit "Movin Out."

Glass Houses is the ultimate tribute to the music of Billy Joel, featuring piano man Henry Haid of Broadway's Tony Award-winning musical "Movin Out." Along with his ten piece band, you will be dazzled as Glass Houses explodes on stage with heart-pounding renditions of some of Billy Joel's all time greatest songs.

The exciting performances by this group of energetic virtuosi will leave you breathless and spellbound as they play effortlessly Billy Joel's chart topping classics of the past thirty-five years. You'll find yourself singing along to such masterpieces as "Scenes From An Italian Restaurant," "Piano Man," and "Only the Good Die Young."

Watch in awe as Glass Houses' 4-piece horn section delivers one outstanding performance adter another on such songs as "The Ballad of Billy the Kid," "Tell Her About It," and "Big Man on Mulberry Street." They will rock the house and have you up on your feet and dancing to songs like "You May Be Right," "It's Still Rock and Roll to Me," and "I Go to Extremes."

All musicians in Glass Houses have had extensive and impressive accomplishments in their own careers and are now excited to be paying tribute to one of rock's greatest contributions: Billy Joel.

Henry Haid has twenty-five years on the club scene playing "Piano Bar" and "Dueling Piano's" and in bands like "Strange Brew," "Straight Up," and "Only in America". He worked with bass player Will Lee (David Letterman's band), drummer Liberty Devito (Billy Joel's band) and alongside producer Hack Douglas (John Lennon, Aerosmith, Lou Grahm). He has appeared on the "Dick Clark Show," as well as many other national and local shows. His expertise in the studio working as an engineer, producer and programmer, has earned him recognition amongst many top recording artists.

Henry has been a full time professional musician all his life. His musical abilities cover the spectrum, playing and singing in styles like (Van Morrison, Elton John, Paul McCartney, Billy Joel, Al Green) and his original compositions reflect those styles.

After spending years playing in piano bars near his home in Long Island New York, as well as bands in New York City, Europe and the Caribbean, his audition for the musical Movin' Out, choreographed by Twyla Tharp, came as no surprise. Having been hand picked by Ms. Tharp to perform the lead, his entire focus and dedication for two years was given to Billy Joel's musical Broadway production of "Movin Out." His performances as the "Piano Man" Billy Joel, at the Richard Rodgers Theatre in New York City, produced rave reviews.

It is only natural that Henry take the next step in producing and performing with his own stage production in a tribute to the great music of Billy Joel.