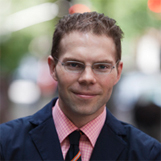 Greg Lindsay
Expert on Globalization, Urbanization & Innovation
X
Program Descriptions
Disrupting Mobility
Six years ago, Uber was an obscure app and autonomous cars were science fiction leftover from The Jetsons. Today, Uber is a $62 billion behemoth, Google and Tesla are leading a breakneck autonomous arms race, and their respective competitors Lyft and General Motors have promised to transform urban mobility by combining the two. How are these technologies already transforming the way we see, understand, and get around cities? What effects will they have on where we live, work and play, and what are the opportunities and threats for automakers, technology firms, public transit, employers, and developers? Drawing upon his work with both New York University and the New Cities Foundation, Greg Lindsay offers four futures of connected mobility and how they promise to transform American cities in the coming decades.

Engineering Serendipity
How do we bring the right people and the right ideas to the right place at the right time to create something new, when we don't know who or where or when that is, let alone what we're looking for? This is the paradox of innovation — new ideas don't follow org charts or schedule themselves for meetings. Greg Lindsay describes how organizations like Google, the U.S. Military Academy, United Health Group, and the International Red Cross are "engineering serendipity." They're harnessing sensors, social networks, and new ways of working to break down the boundaries between new teams, discover new ideas, inspire collaboration and creativity, and to spur employee engagement, learning, and innovation. How, where, and who we work with will never be the same.

Big, Smart, and Green — How Cities Define Our Future
Humans are an urban species — more than half of us now live in cities. And our numbers will double by 2050 to more than 7 billion people, equal to the number alive on Earth right now. Every challenge we face will by definition become an urban one, whether solving poverty, adapting to climate change, finding homes and opportunities for immigrants, creating jobs and growth, and simply how to get around.

Greg Lindsay speaks frequently about the future of cities, most recently at the Atlantic Council, the Urban Land Institute, and the New America Foundation. He directs the Emergent Cities Project at the World Policy Institute, exploring what lessons struggling cities like Detroit can learn from dynamic ones such as Nairobi. His work with Studio Gang Architects on the future of suburbia was displayed at New York's Museum of Modern Art in 2012, and he is currently working with OMA/AMO to explore the intersection of the office with the city, the cloud, and Big Data. Popular topics include "smart cities;" urban mobility; cities and immigration; making cities more resilient to climate change, and how work is changing in cities.

The New Geography of Trade, Talent, and Innovation
How did China become the "world's factory?" Why are Americans checking into Bangkok for heart surgery? How did Africa become a breadbasket for the Middle East? What all of these things have in common is that they were made possible by the world's explosive growth in air travel. The combination of the Internet and jet engine is redrawing the world map, creating new winners and losers among countries, cities, companies, and all of us. Greg Lindsay, author of Aerotropolis: The Way We'll Live Next, explores the rules, threats, and vast opportunities afforded by the new highways in the sky.

The Future of the Future
The future isn't what it used to be. As the pace of social, technological, and environmental change accelerates, organizations are struggling just to make sense of the present, let alone spot threats and opportunities looming just over the horizon. The ability to anticipate, understand, plan for, and innovate around uncertainty has become a critical skill for designers, innovators, and strategists everywhere. As the computing pioneer Alan Kay once said, "the best way to predict the future is to invent it."

Futurist, journalist, author and scholar Greg Lindsay will teach a crash course in exactly that. The practice of creating futures, or "foresight," offers a toolkit and framework for detecting signals of change, organizing insights, synthesizing possible futures, identifying potential barriers and opportunities, and designing innovative products, services or ideas that satisfy emerging needs. In addition to lecturing on possible futures, Greg is available to lead participants through a fun, fast-paced workshop in which they create futures of their own.
Greg Lindsay is literally a man on the street, reporting from the intersection of global trends and local wisdom. Widely cited as an expert on the future of travel, technology, and transportation, on the design and resiliency of cities, and on how to create more innovative workspaces, he's been described as "very energetic," "sweeping and inspiring," and "sharp, incisive, and provocative." He offers fascinating hints and visions of our richly connected future, the challenges it poses, and the opportunities for those prepared to meet it.

Greg is a senior fellow at the New Cities Foundation — where he leads the Connected Mobility Initiative — exploring the future of smart cities and networked transportation together with the Toyota Mobility Foundation. He's also a non-resident senior fellow at the Atlantic Council's Strategic Foresight Initiative, where he analyzes the risks and opportunities posed by cities and technology to national security. Greg is also a senior fellow at the World Policy Institute and a visiting scholar at New York University's Rudin Center for Transportation Policy and Management.

The co-author of Aerotropolis: The Way We'll Live Next, he is also a contributing writer for Fast Company, and his insights have appeared in Harvard Business Review, The New York Times, The Wall Street Journal, McKinsey Quarterly, on NPR and the BBC, and in the 2015 PBS documentary feature Mankind from Space. His work exploring the future of suburbia with the MacArthur Foundation "genius" architect Jeanne Gang was displayed at New York's Museum of Modern Art in 2012.

As a consultant, he has advised clients such as Google, Intel, Toyota, Chrysler, Samsung, Ericsson, and Expo 2020, among many others.

Greg is a two-time Jeopardy! champion, and the only human to go undefeated against IBM's "Watson."
Books

Aerotropolis