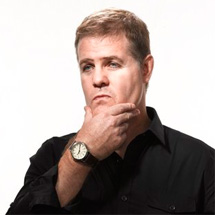 Greg Warren
Stand Up Comedian & Keynote Speaker
X
Program Descriptions
The Funny Side of Sales
Greg intertwines comical stories and observations from his sales career with an underlying message of how to use humor to overcome failure.

Failure!
Greg's self-deprecating style comes alive as he shares stories of his failures as a West Point Cadet, a Denny's busboy, a college wrestler and a Pringles salesman. He underlines the show with a unique message on how to use humor to get past failure.
Greg Warren, most recently seen on "The Late Late Show" and "Comedy Central Presents" has built a strong fan base with an act inspired by his Midwestern upbringing. His CDs, "Running Out of Time" (2013) and "One Star Wonder" (2009) hit #3 and #6 respectively in iTunes Top Comedy Albums. An honest mix of self-deprecation, frustration and an arsenal of lifelike characters highlight Greg's colorful perspective. Greg attracts a diverse audience spectrum, having performed as a "Coming to the Stage" finalist on BET and on Country Music Television's "Comedy Stage." He is also a favorite on the nationally syndicated Bob & Tom radio show, which led to touring theaters across the country with The Bob & Tom All Stars Comedy Tour. He appeared in the independent film "23 Minutes to Sunrise," and will be featured in the upcoming film "Marshall The Miracle Dog" with Matthew Settle, Lauren Holly and Shannon Elizabeth.